VSDC free video editor, the complete guide 2021. Do you want to edit a video with free VSDC video editor software then this article will be helpful for you?
Do you have a video editor or you are thinking to purchase new video editor software? After purchasing a new video editor, you need to read this article because in this article we will talk about the free VSDC video editor that is really good.
Everyone needs to edit videos whether, for YouTube, Facebook, or other purposes, and people spend money on different types of video editing software, so you can edit videos with the help of free VSDC software.
Is VSDC easy to use?
You know every software has its own features and interface so these are different from each other. The VSDC video editor has a lot of features and it is a little bit difficult than other video editors.
Is VSDC safe?
Yes, of course, it is safe and secure, you can download this software on VSDC official site.
Is VSDC video editor free?
Yes, I already discussed that this software has a free and pro version. This software has a lot of features in the free version like you can export video in H2645/HEVC format. You need to keep the maximum quality at the lowest file size that is vital for those regularly processing HD and 4K files.
How much does VSDC cost?
If we talk about its pro version, the VSDC pro version estimated cost is $19.99 with contains some advanced tools.
Why is VSDC so slow?
I'm personally using this software and occasionally a screening window is a lag but this lagging does not affect the result of the video. This may also be due to your PC configuration.
Does VSDC have a watermark?
Nope, it does not have any watermark, in most of the free video editors have a watermark and that we don't want. am I right? To remove the watermark, we have to purchase the software, some people can purchase it, but most do not.
Does VSDC support 4k?
Yes, VSDC does support 4k, as I told you this software has free and pro versions and both can support 4k, in most of the free video editors this feature is not available.
Is VSDC a good video editor?
If we compare this free video editor software to others, then this is the best and good video editor. There is very difficult to find a free video editor with no watermark.
Are all the questions cleared? For more information read this VSDC Free Video Editor (Wikipedia). Now we will discuss how to install it on your PC or Laptop.
How to install it on a computer?
Simply, you need to download the setup of this software from VSDC official site then you need to install on the pc or laptop. After installing you need to open it and start video editing.
If you don't know how to edit video in it, further read this article, we'll talk about that in detail.
How to use VSDC?
You need to open the editor then there will be serval options like, "black project, create a slideshow, import content, video capture, screen capture" and you have to choose one.
For example, you want to "import content" so just click on import content, after that you need to select a video that you want to edit. You can change video quality settings, filename, etc.

If you want to cut video, then simply click on a layer and select "Cutting and Splitting", now you can cut or split of video.

Do you want to add or merge videos? Simply you need to "add video" and select a new video that you want to add and set the video in the same layer or another layer. If you want to add an image in the video simple revise the above procedure.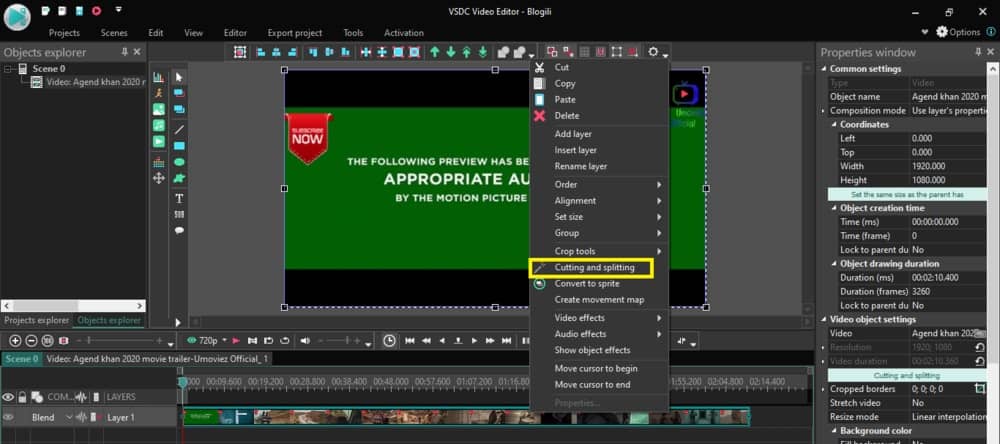 Result
VSDC video editor is the best free editor and if you have any queries related to the topic can ask through the comment box and if you have a better experience related to this software kindly share with us, thanks.
Read also: 3 Window Activation Methods that Definitely Work