Do you have your own home or want to buy a home? You must need to insert new and latest home furniture. For buying new and latest design furniture, you should try "Amart Furniture".
It offers all types of furniture whether, it's home or office or any outdoor, they are all providing. Then why you are waiting for? Just visit on a retail shop or official website and purchase online.
If you want to know more about it, we are here to discuss, how does it work and what does it provide. So let's take a look at what is Amart Furniture?
What is actually Amart Furniture?
Amart Furniture provides a wide range of reasonable home and outdoor furniture in Australia. It does exist physically and online where you can access it through an online webpage or retail shop.
What does it offer?
Amart Furniture company offer lounges, sofas, shop suits, stools, ottomans, dressing and bedside tables, wardrobes, kids' storage, cover sets and sheets, pillows, mattresses, day beds, sun lounges, blinds and curtains, cushions, lamps, rugs, office desks, and accessories.
You can also purchase these things online or physically store them. There are almost 15 stores available in Australia in various locations.
Features and Benefits
Here we mentioned some benefits that make it best than others:
Quality: It provides only quality and reliable product
Quantity: Doesn't matter, you can purchase any home or outdoor furniture. They have home furniture in quantity
Location: It have almost 15 store "https://www.amartfurniture.com.au/store-locator" in Australia, you can easily find and purchase home furniture. (Also can purchase online)
Amart Furniture packages are offered for its customers to buy online or from shop any time
Gifts: Its team also give you some gifts on purchasing the furniture
It provides a stunning finance facility at zero interest fees. So you can buy what you want and pay for it over time at interest free.
The payment method is quite easy, it provides multiple and easy payment gateways like Visa, MasterCard, PayPal, Latitude, and many more. You can chat with them on their store online anytime with the live chat method.
How to login in Amart Furniture Platform
If you don't go to the store and want to purchase home furniture online, then you must be login. If you don't have an account, then follow the instructions mentioned below:
Open an official webpage "https://www.amartfurniture.com.au/"
Click on "login" button
Enter the "login" details or click on "create account"
Enter the "first name" and "last name"
Attach the "Phone number"
Set the "Email" and CONFIRM it
Then click on "Create account".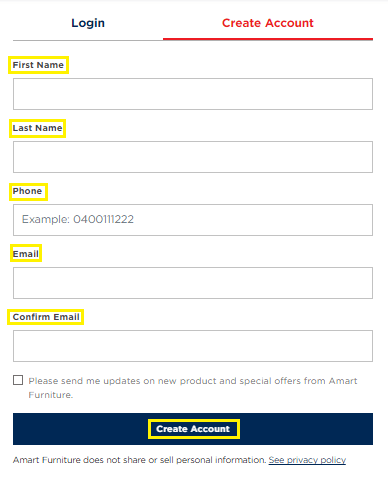 Now, you have to verify your account, go into the Gmail account, and link on the confirmation link sent by the official team. Now you have successfully created an account and keep continue your purchasing.
Final Thoughts
Amart Furniture is the best company that offers the best home and outdoor furniture all over Australia. You have both options to purchase home furniture, online and physically. If you are from Australia, then this is the best option for you.
FAQs about Amart Furniture
How many stores the Amart furniture has?
Amart Furniture has almost 15 stores where you can buy online or physically home and outdoor furniture.
How much trust score Amart furniture has?
It has an overall trust score of 4.5 out of 5 and 55,83 reviews.
Is Amart furniture made in China?
Amart Furniture is a pure Australian company but some countries also provide supply chains based in the Asia region, principally China, Vietnam, and Malaysia, in order of volume.
Who makes Amart furniture?
Quadrant Private Equity has major a major part in this company, which took full control of the retailer in 2016.