Streaming is a harder job than many people expect. Designing your channel, developing your content, conversing with an audience, and putting hours and hours in each week can get quite intensive after some time. This is before you even factor in charity event streaming, keeping up with the latest titles, and celebrating follower or subscriber milestones.
It's okay, though, because streaming is a fantastic amount of fun, and truly enjoyable.
That said, it's much better if you're comfortable at your desk, and have everything you need to hand.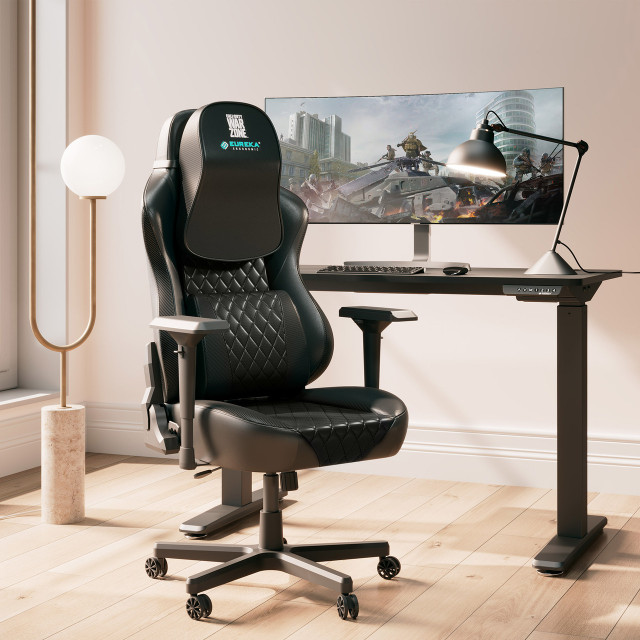 This is why Eureka Ergonomic has designed the ultimate chair for streaming, especially if you play high-intensity first-person-shooters or battle-royale games such as Call of Duty ® Warzone.
With several levels of robust comfort, incredibly supportive ergonomics, and highly durable materials, this is the best chair for those looking for to play games, stream for hours, and ultimately relax in the best way. Buy it on Amazon.com here.
Supporting & Improving Your Seated Posture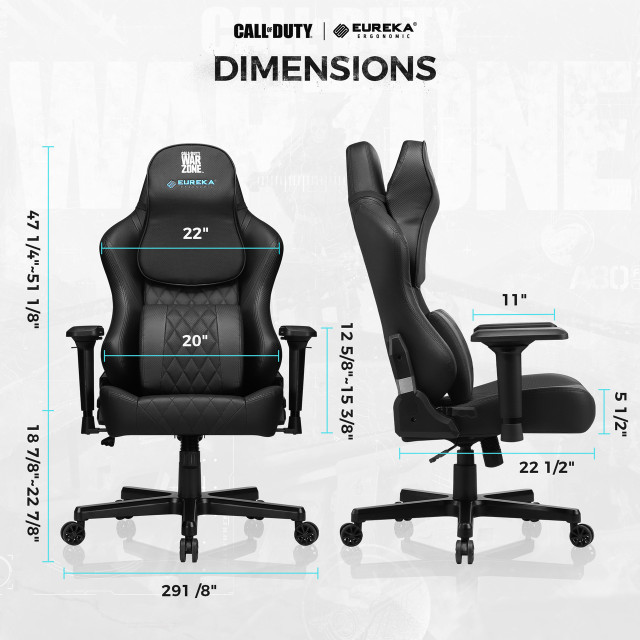 When sitting and streaming for hours at a time, it's important that you sit down in the right posture. This can prevent slouching, and will ultimately help your back health over time. This can be essential, especially for those who tend to lean forward in their seats.
With a truly supportive lumbar cushion and supportive headrest, we ensure that no matter what your body composition, you should be able to find a comfortable and supported seating position. Our backrest has used back-contour technology designed to the shape of a natural back curve, meaning that the "contact point" with your back occurs over a much wider surface area than many cheaper chairs.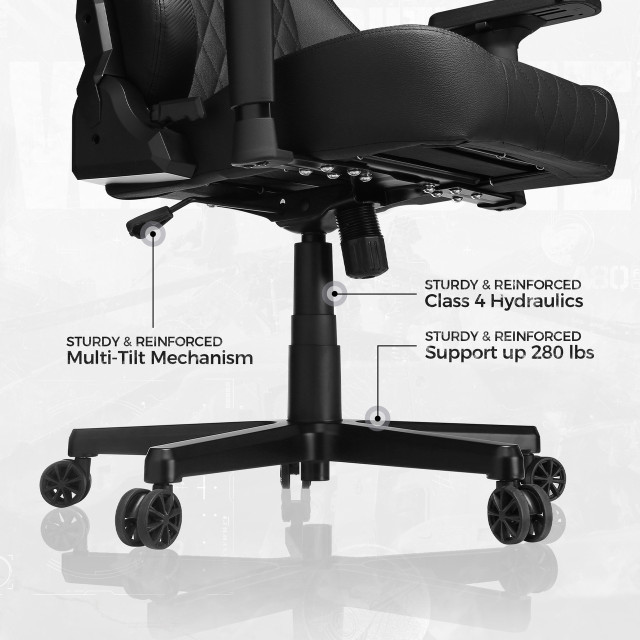 This means that you can avoid the feeling of being pinched at the back, or having all of your weight placed on one minuscule part of the backrest surface area. For many, this upgrade is a revelation in comfort and support.
Adjustability Helps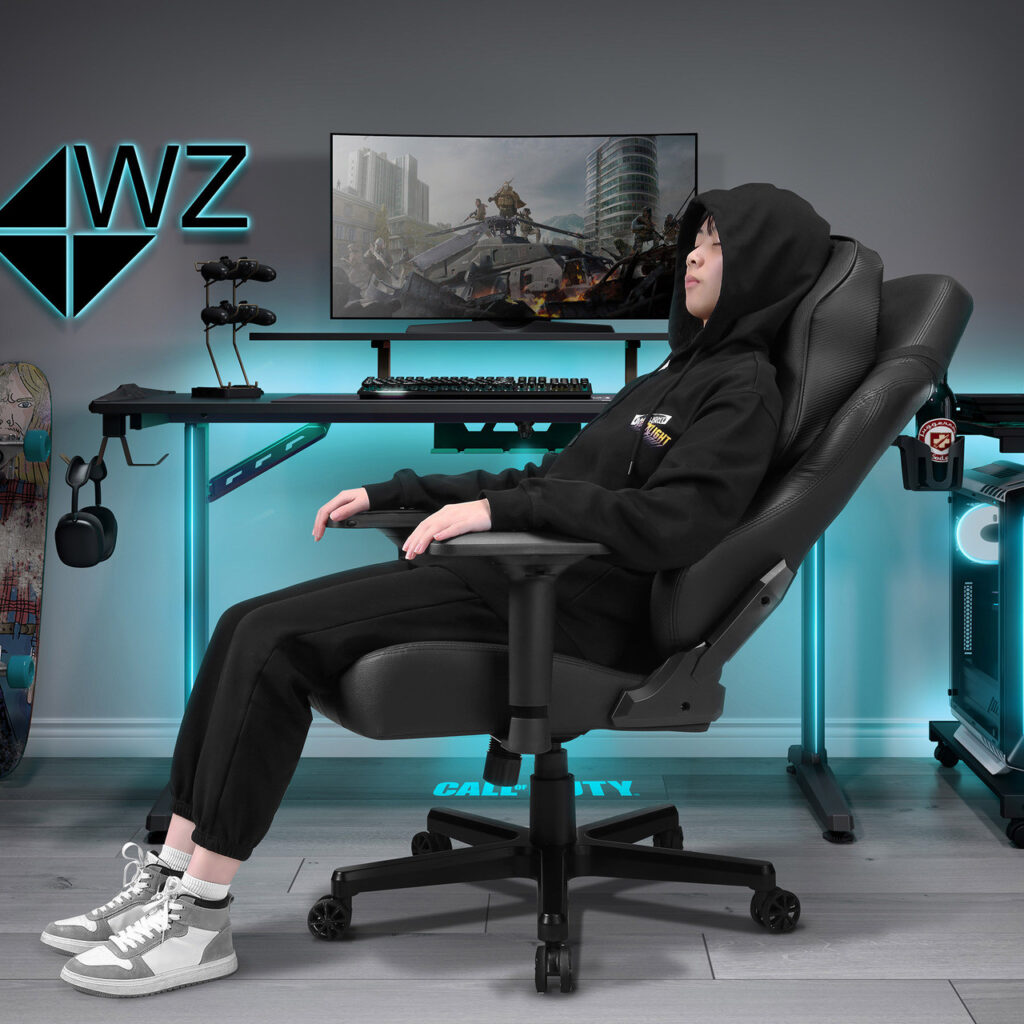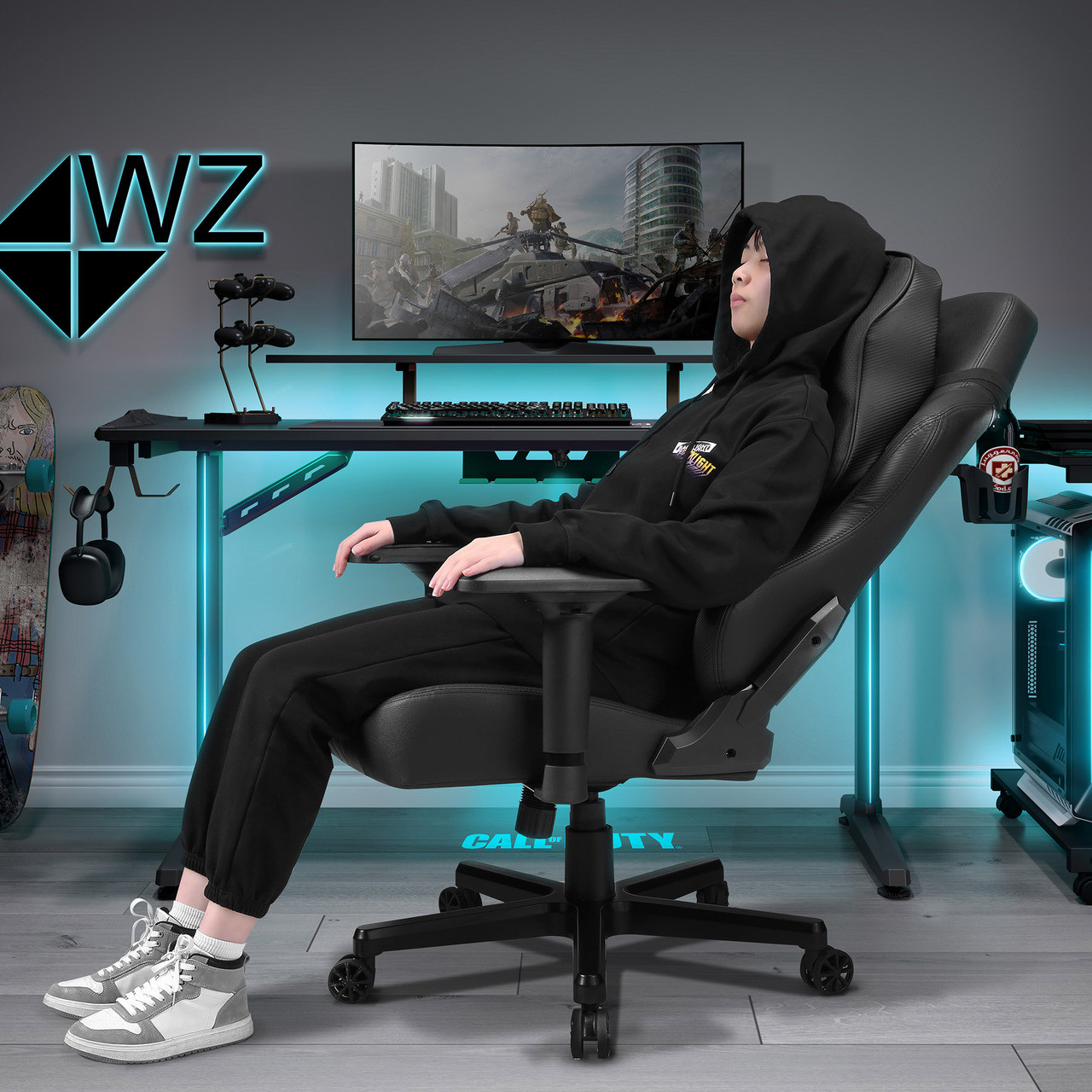 The reason that a chair can be comfortable over a long period of seating is by virtue of its adjustability. The human body needs to adjust, it's why we're always moving, even slightly from minute to minute. Without the ability to adjust, you can feel limited, constricted, and trapped. This is not a good mindset to have when trying to provide entertaining content to the audience you appreciate so much.
This is why the Eureka Ergonomic Warzone BLACK gaming chair has been designed with adjustability in mind. With armrests that can be placed in many different positions for elbow support, and with a keen ability to recline the backrest, enjoying many seating positions over the course of hours is possible and contributes to utter comfort. This means that when working on your best battle royale play or watching YouTube videos with your audience, you can adjust the chair to your liking as many times as needed.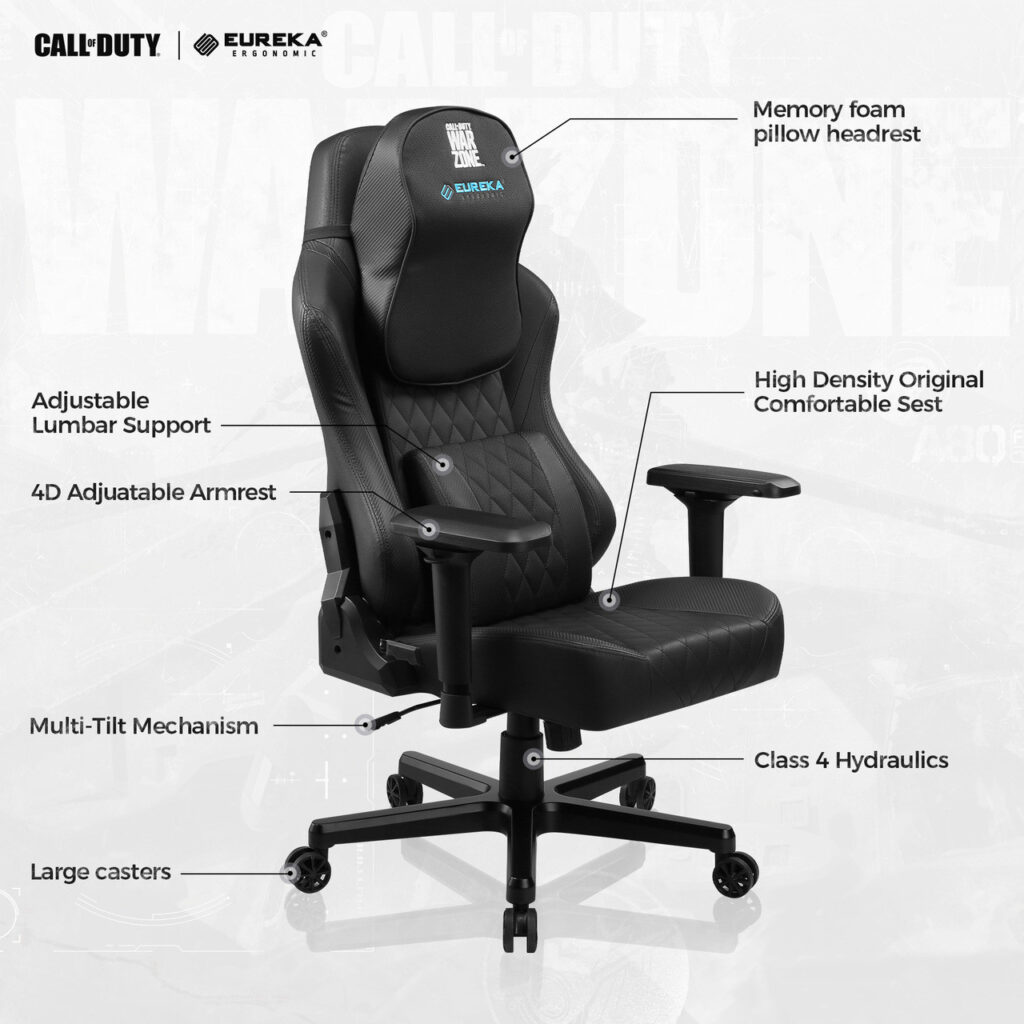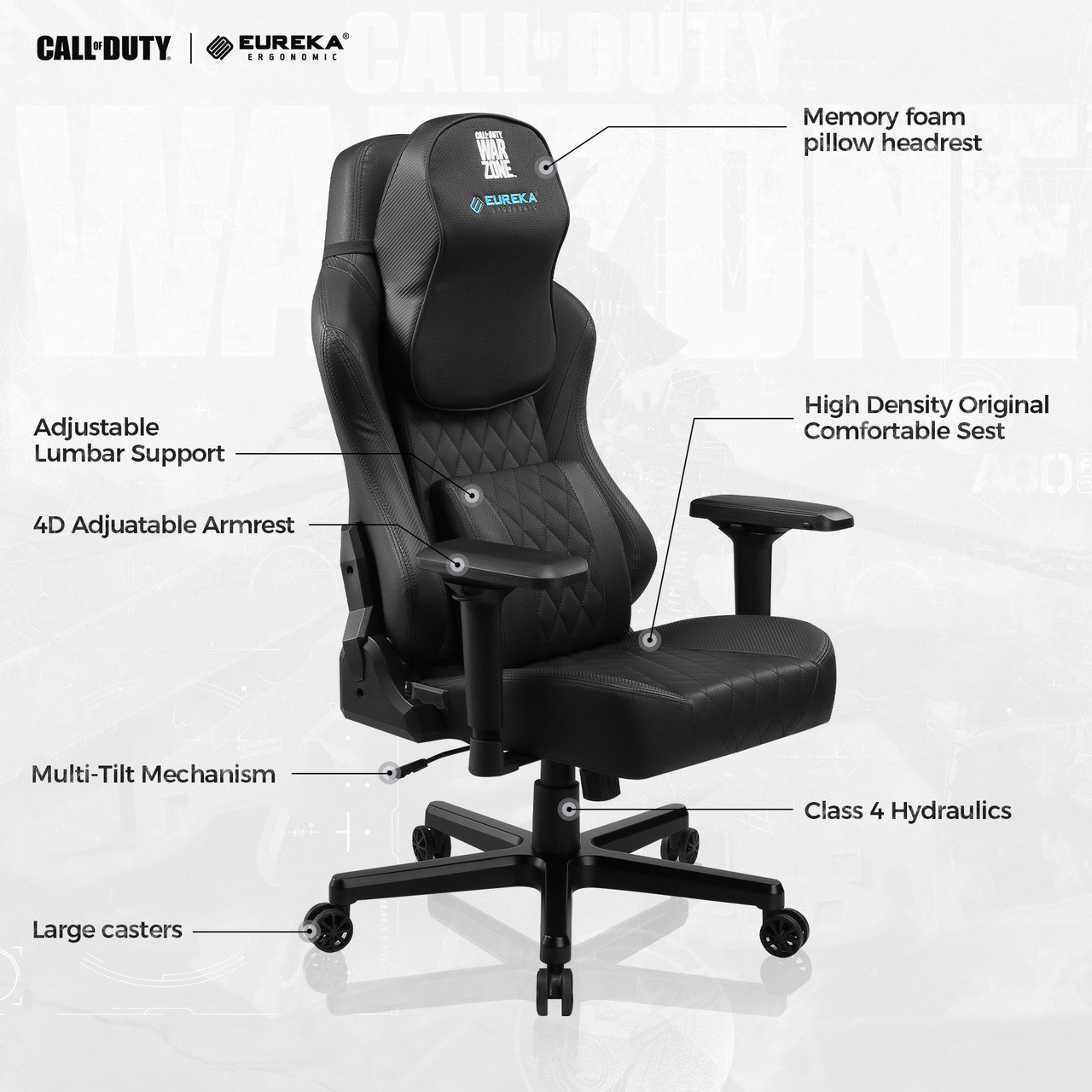 In other words – a great ergonomic gaming chair should be so comfortable that you rarely notice its presence. This is the fundamental philosophy that inspired our design, and it's why our chairs are licensed by the official Call of Duty ® franchise – it's perfect for competitive players and hobbyists alike.
A Clean Aesthetic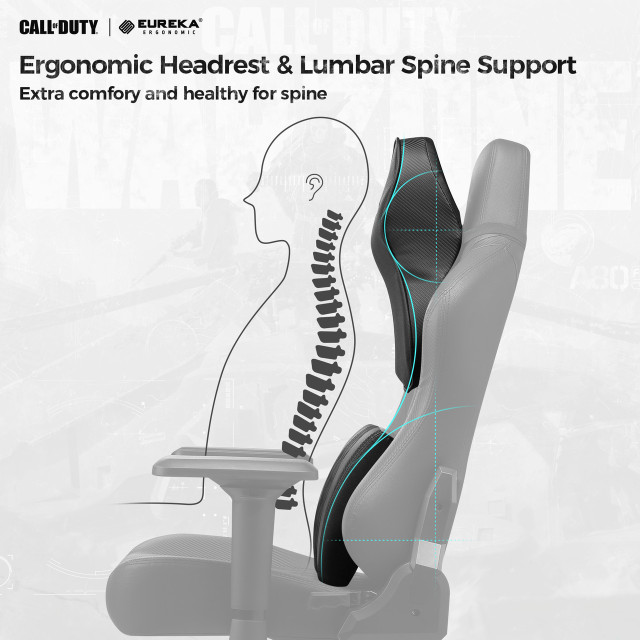 Streamers are skilled at designing the overall aesthetic impact of their stream. From luminous lights on the wall, to RGB peripherals and fixtures, every pixel of space on your screen has been carefully curated.
This is why our ergonomic BLACK gaming chair model is so worthwhile. It affords you a clean, neutral base design that can fit in with any aesthetic and unify your desktop theming, no matter how many times you change it throughout the year. On top of this, with official Call of Duty ® franchise licensing, you're certain to champion the game you've made your name on playing.
Breathable, Durable Materials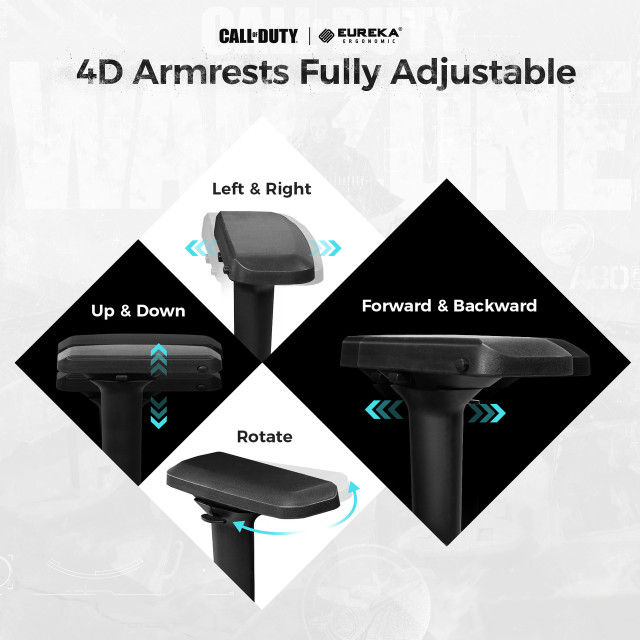 With breathable leather with carbon fiber textures, you can be sure that even in the direct heat of summer, sitting down will be comfortable, with perspiration stains prevented. Again, no one likes to stream while feeling overheated, so the benefits here are clear to see.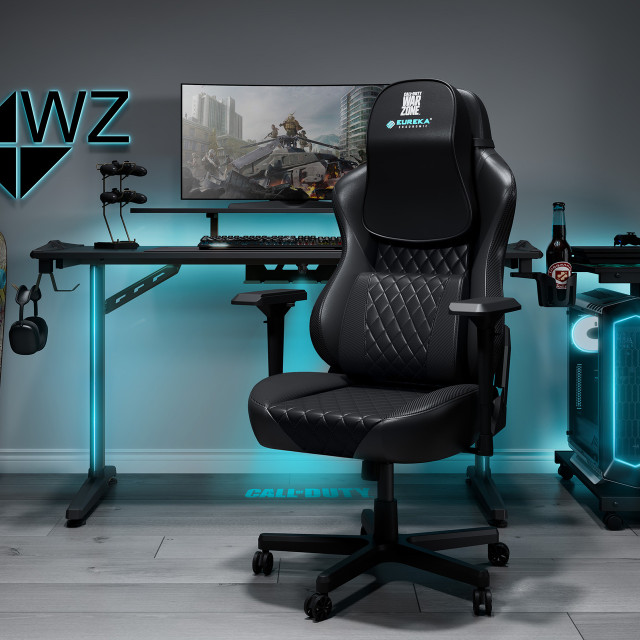 On top of this, our strong metal base has been designed with durability and stability in mind. This means that the wheels are fully effective over hardwood or soft carpet, which makes it the perfect chair for you no matter your gaming environment. Furthermore, we're able to make sure that your weight will be fully supported with a high weight limit.
Warranties As Standard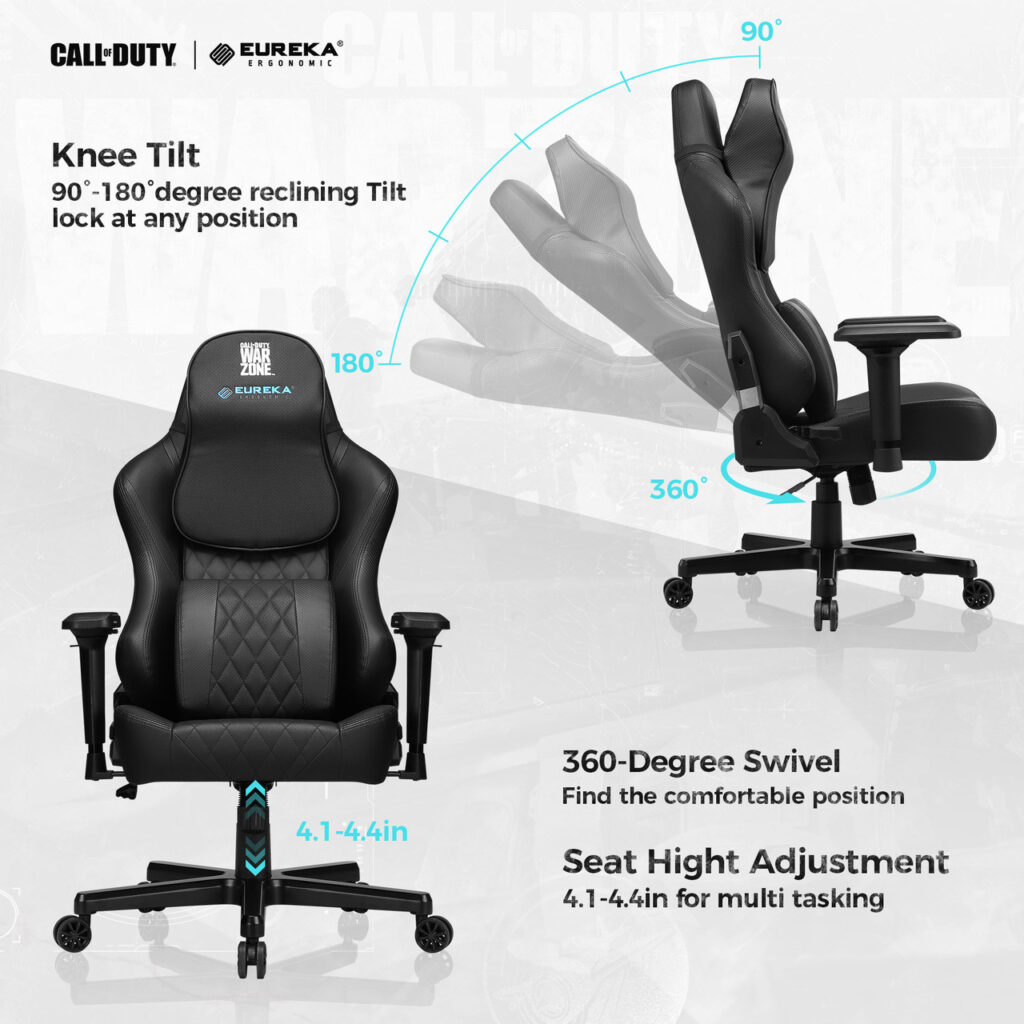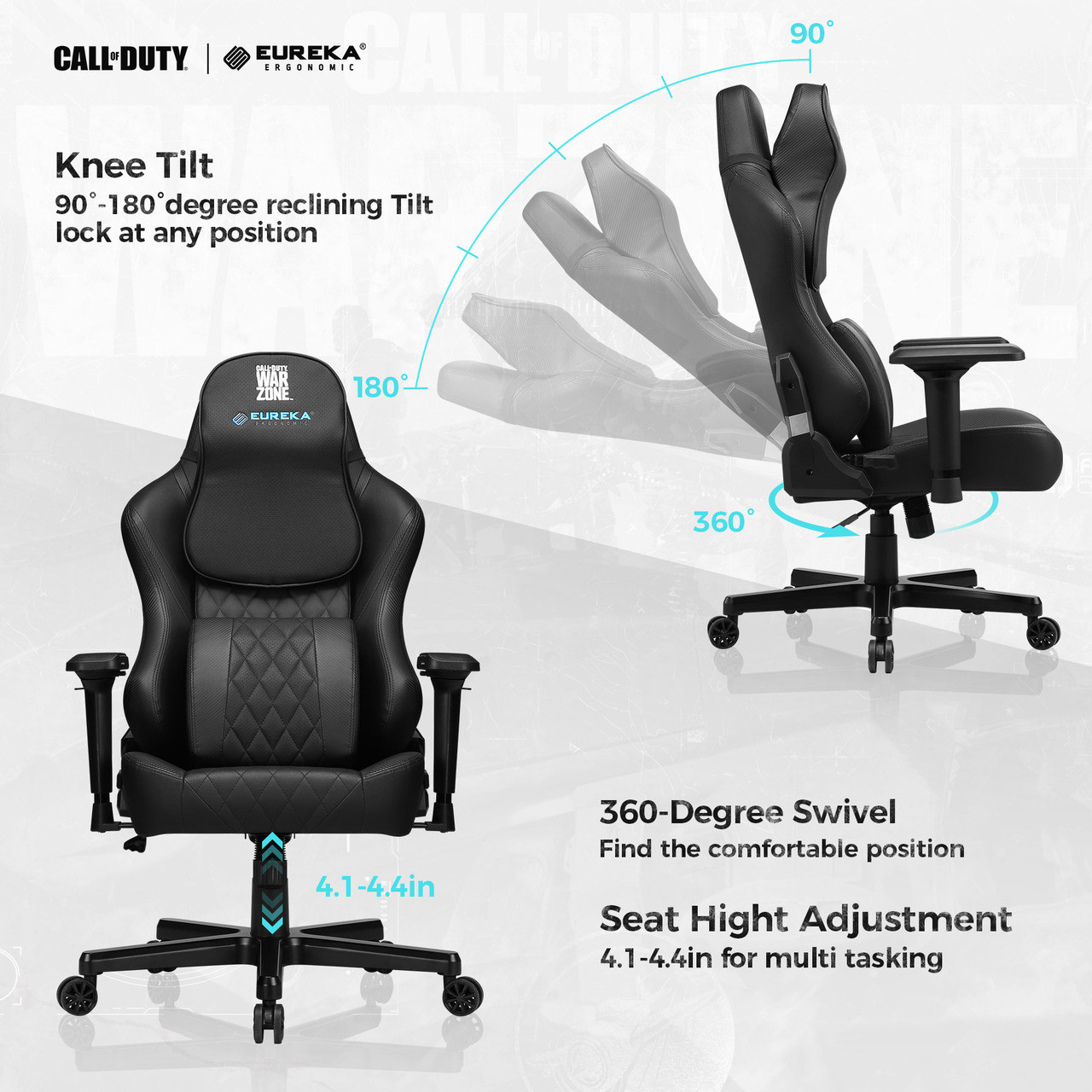 We're aware that setting up a first-time streaming station can get expensive. With all of the streaming decks, high-quality cameras, secondary monitors, and even a second streaming computer dedicated to rendering your footage in real-time, it's not hard to see why components that provide longevity are so essential to your budget.
That's why we're proud to offer a five-year limited warranty as standard. That's how confident we are in the robust design of our chairs, as this warranty competes with even the most proven ergonomic executive office chair brands.
No longer is "gaming chair" a dirty word, but your first choice for the best possible streaming and gaming experience, no matter if your camera is on or off.
Eureka Ergonomic – Your First Choice For Gaming Furnishings!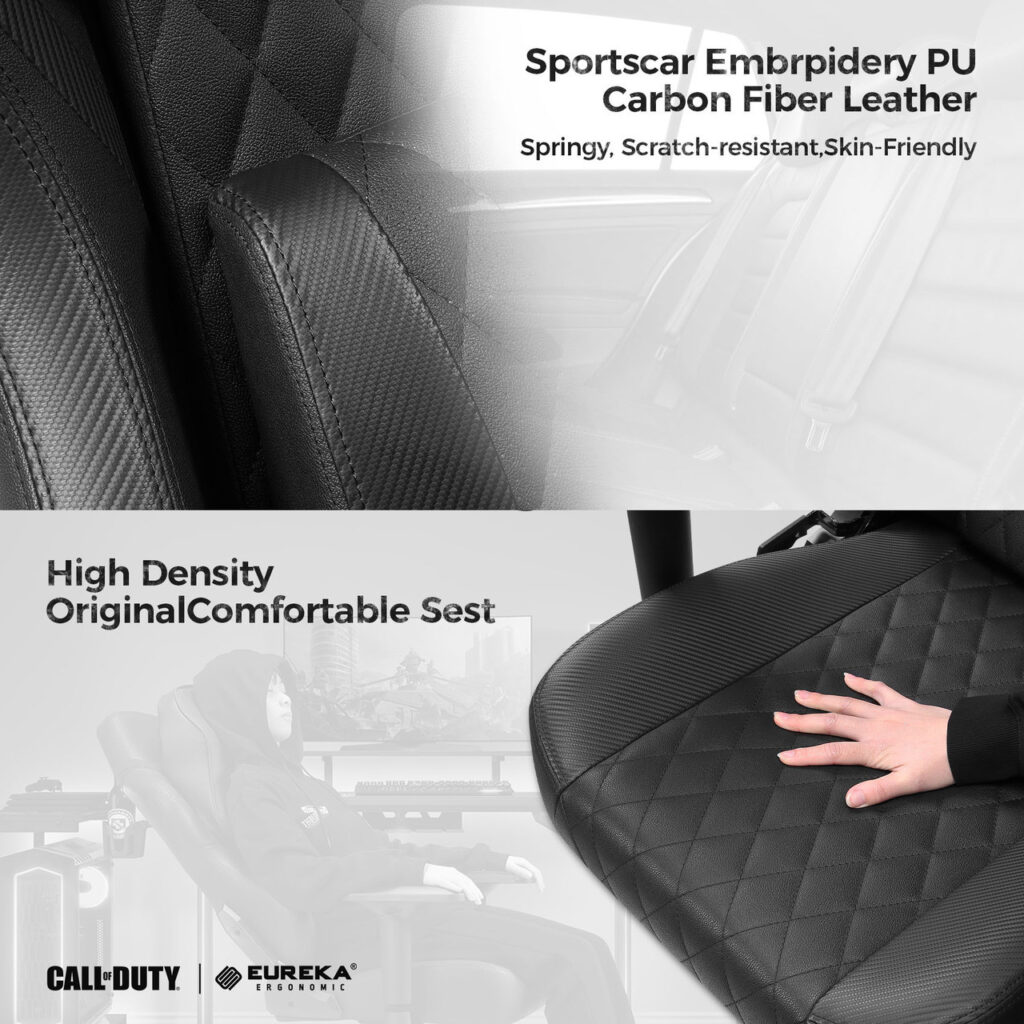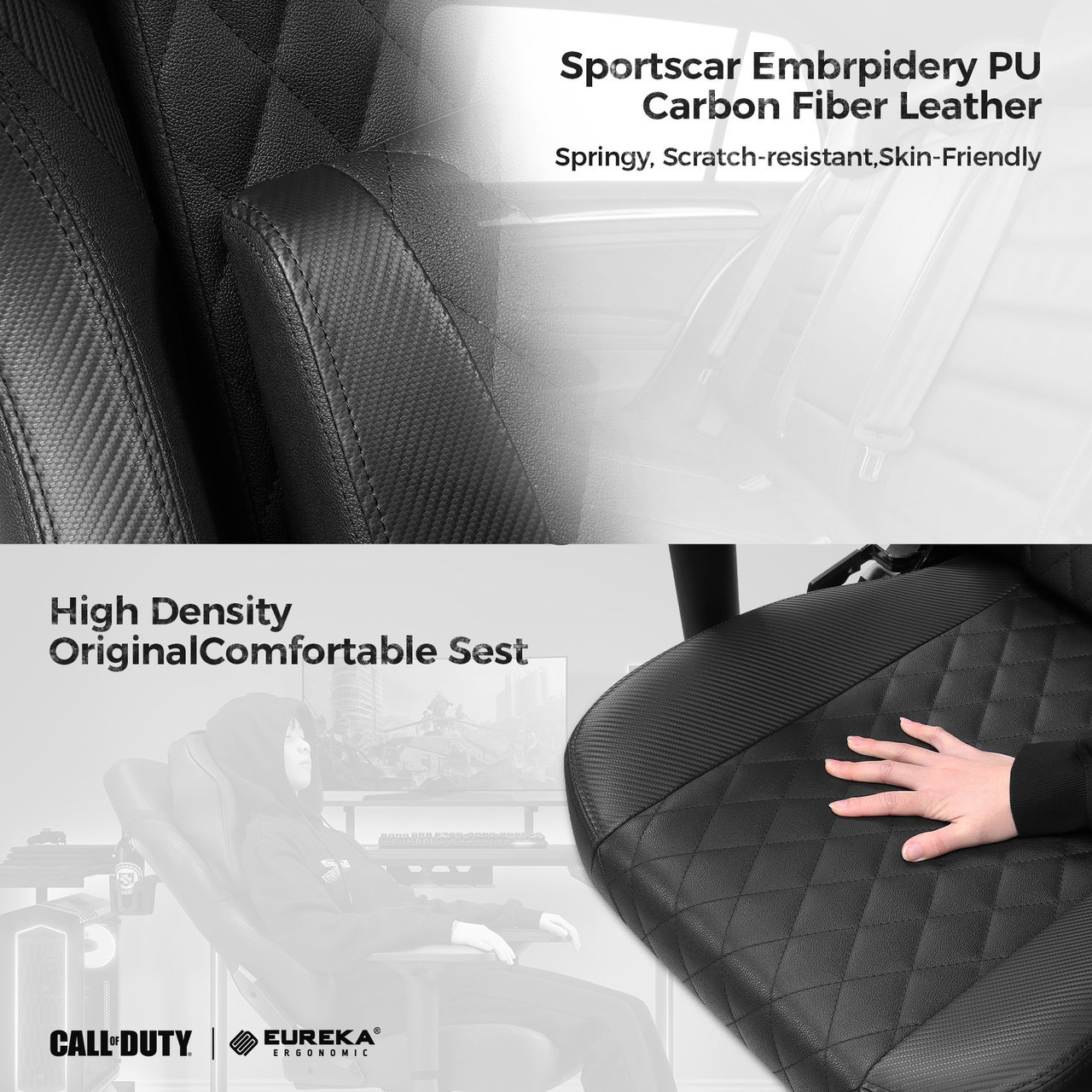 Eureka Ergonomic is dedicated to designing the best gaming furniture on the market – it's as simple as that. We're comprised of gamers, and design our products for gamers.
No matter if you're an e-sports professional, a V-Tuber, or someone who simply enjoys streaming their digital farm and harvesting virtual crops all day, what matters is that you can "get into the game" and do so with a real sense of pride.
You need only look through our excellent, wide, and robust gaming desks to see that we think of every convenience a gamer would be best off having while invested in their hobby. Gaming is one of the best hobbies in the world – we provide furnishings that help you create unforgettable memories.
Why not browse our product library to see what else we have on offer? https://eurekaergonomic.com/gaming-chairs/.