An absolutely epic family road-trip in Australia, this east-coast journey encompasses the best of the coastline's towns and cities, and provides family friendly activity suggestions along the way.
There are substantial distances between each destination, making a Campervan or Motorhome the most comfy and convenient way to travel. No need to stress over accommodation reservations, amendments or availability, when you have all your required amenities travelling along with you.
Best done as at least a 21-day road trip, you can travel this itinerary in either direction, according to the best flight prices and campervan hire deals.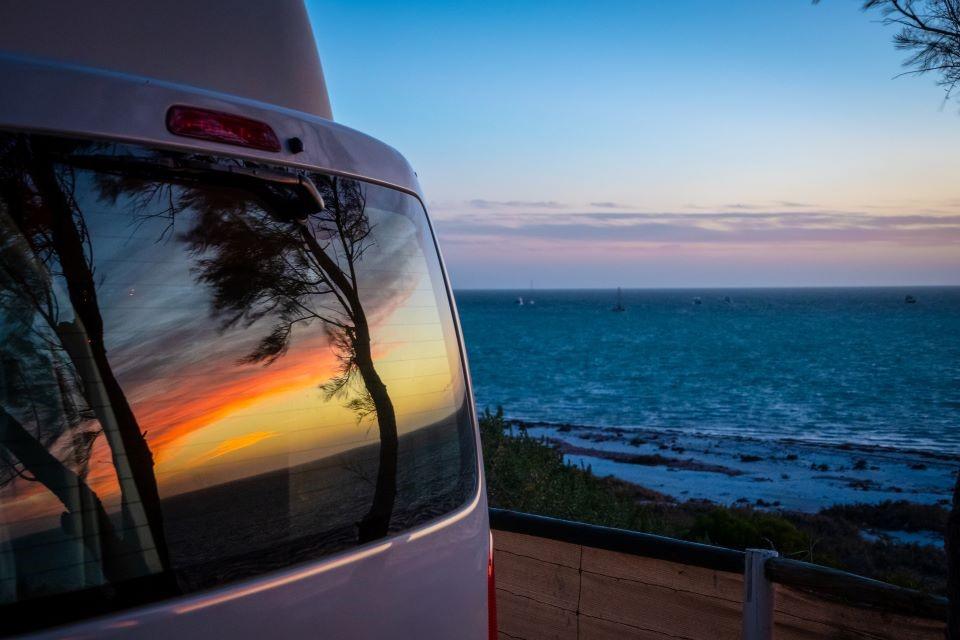 Sydney to Coffs Harbour – 527km
The first leg of this trip is the longest, but at the start of a holiday the kids are generally brimming with excitement, so best to make the most of it and get the journey underway with a big section of distance.
The best thing about a campervan holiday is that if or when the exact travel plan isn't working for you, stop at your leisure! No harm done if you slow the pace down in some places and speed it up in others. You will surely find places you love more than others, and it makes sense to go with the flow and enjoy your vacation.
If you do decide to stop en route after departing from Sydney, either Nelson Bay or Port Macquarie are excellent coastal towns to visit.
Coffs Harbour is a beautiful spot to spend a couple of days, one of the best outdoor activities to do with the family is a visit to Muttonbird Island. This wonderful nature reserve has a sealed walking track, which takes you up to the island's lookout point. In months outside of winter, the island houses thousands of breeding mutton birds, which is how it earned the fitting name.
The kids will have a blast at the very well-known attraction "The Big Banana" – there are carnival rides, a water park, laser tag, ice-skating rink and much more. Parents and guardians will no doubt enjoy the delicious menu offerings at the Big Banana café.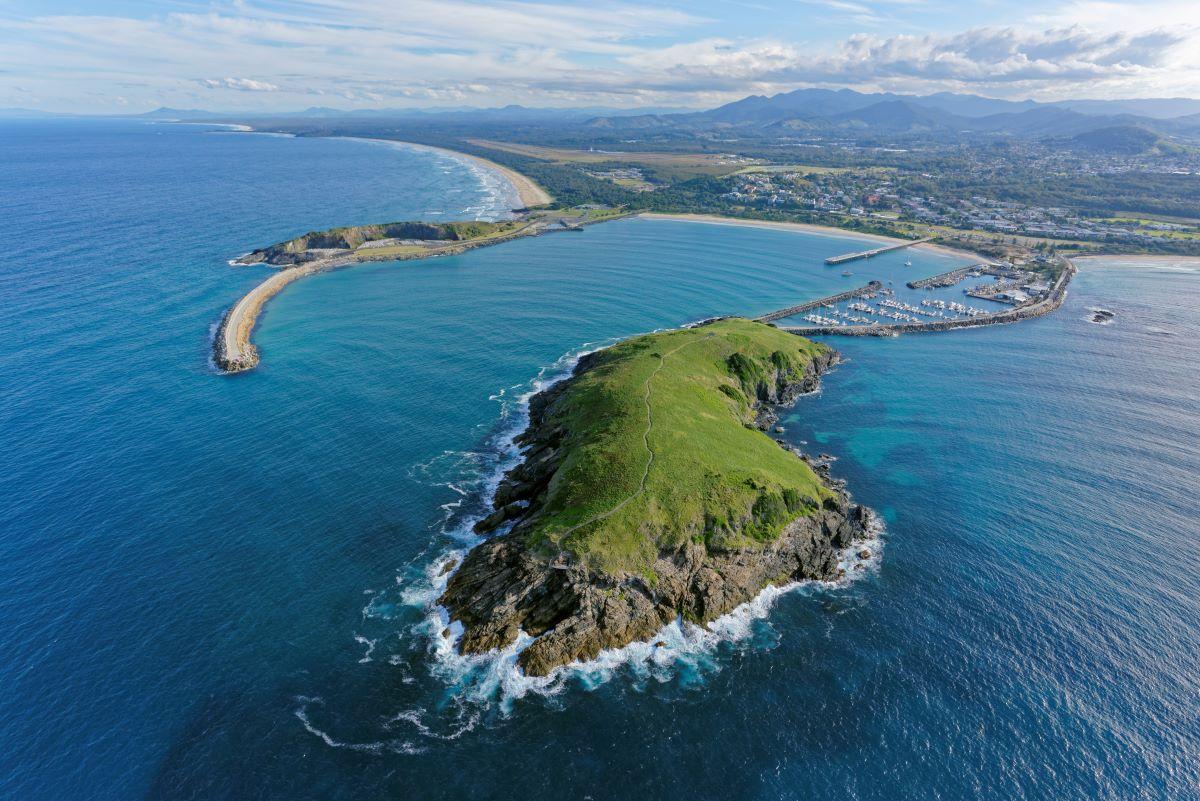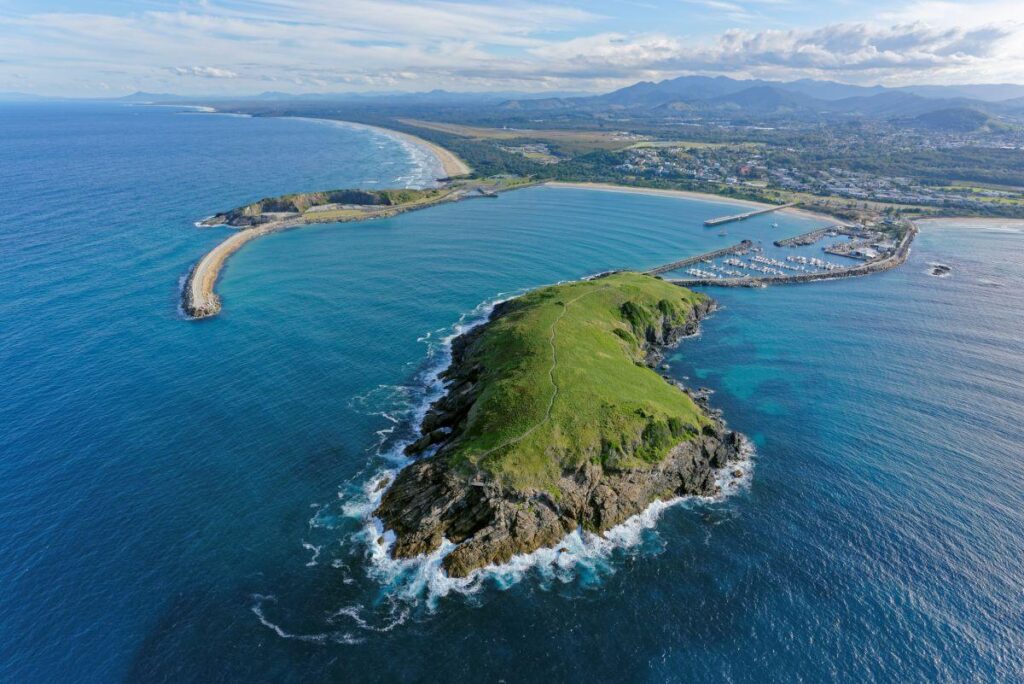 Gold Coast – 311km
One of Queensland's most visited tourist destinations, the Gold Coast provides the ultimate fun for families. As well as famous beaches, the GC Aqua Park and an abundance of family friendly restaurants…the Gold Coast has theme-parks galore, interactive attractions like Ripley's Believe It or Not, and amusement arcades, such as Timezone.
If you're looking for a beach with calm water and soft white sand, then Tallebudgera Creek and Kirra Beach both offer a perfect option. If anyone forgot to bring something with them on the trip, pick it up at the Harbour Town outlets or the massive Pacific Fair shopping precinct.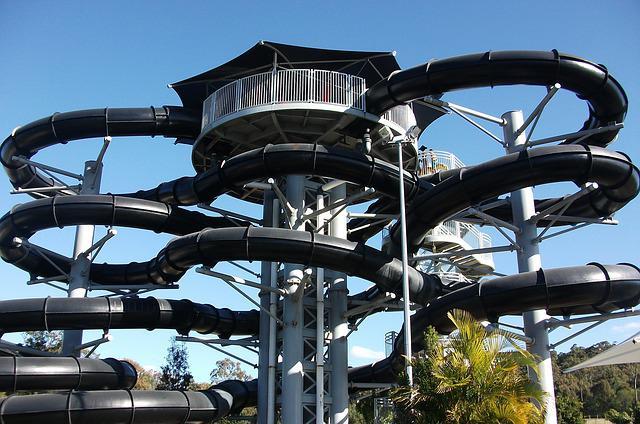 Sunshine Coast – 186km
On your way through to the Sunshine Coast, stop in at Maleny Bird World. The bird aviary here is a haven to a variety of bird species, from finches to exotic parrots. The feathered residents here were all adopted, either after being surrendered by their owners or being rescued from neglect. You can see from a visit here that they are all well taken care of in their new home at Bird World.
Australia Zoo is the other animal-centric day trip that you won't want to miss. Needing no introduction, the Zoo was founded by the Irwin family, and houses hundreds of animal species, sure to excite all members of the family. The huge habitats are clearly well-maintained and their focus on conservation is obvious throughout your visit.
If you are still in the Sunshine Coast on a Wednesday or Saturday, spend the morning at the Eumundi Markets. They have loads of assorted stalls, carrying everything from trinkets and toys, to jams and preserves, and handmade clothes, jewellery and ornaments. The food trucks here are sure to be a win with the family as well!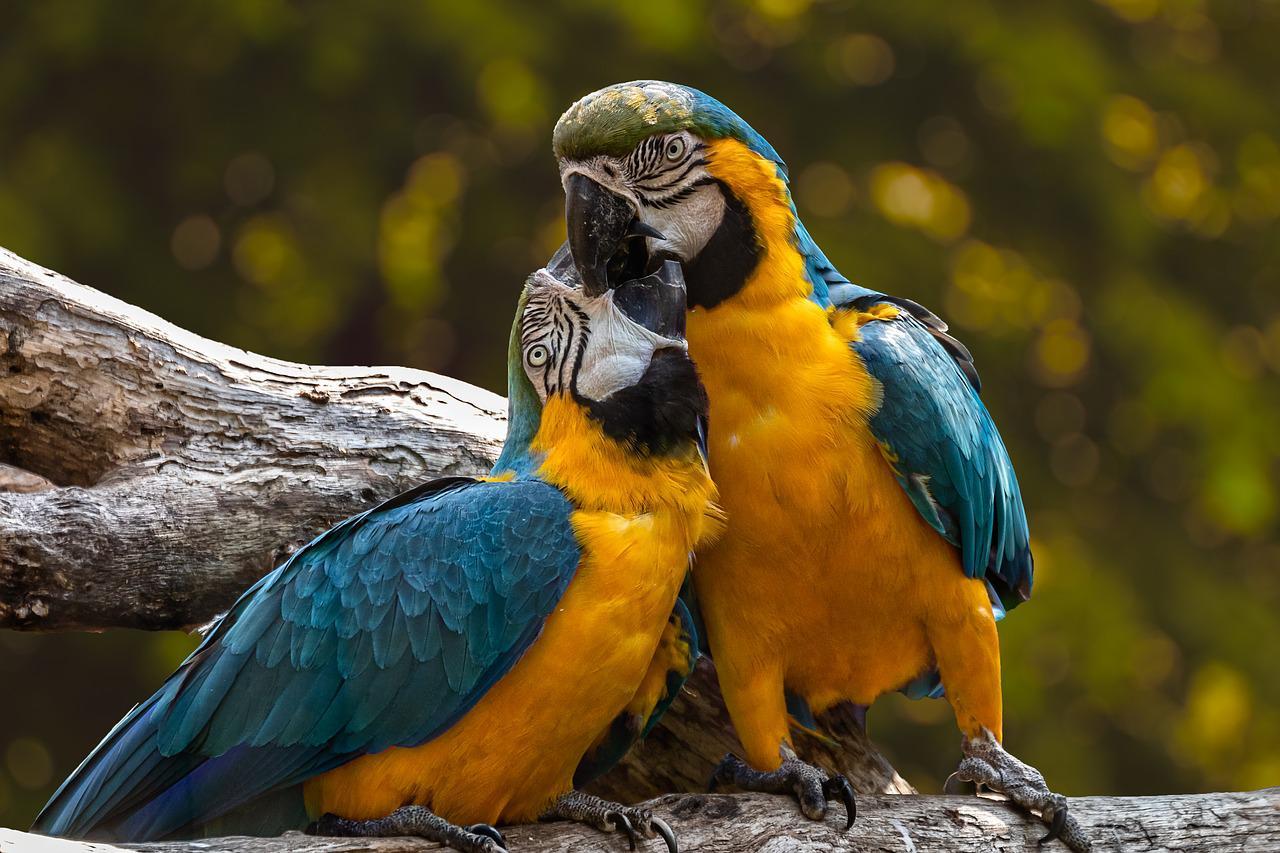 Bundaberg – 275km
A few hours drive north of the Sunshine Coast, Bundaberg provides a great place to overnight and break up the journey. If you arrive early in the afternoon, pop into the Amandine Lavender Farm and take a self-guided walk through their flower patch, a perfect way to stretch your legs after the drive. The on-site gift shop sells boutique handmade products, all made from their own homegrown farm.
The kids may not be thrilled, but the adults in the group may be very happy with a visit to the Bundaberg Rum Distillery. You can book a tour and learn about the history and crafting of rum, or simply enjoy a visit to their onsite retail store to buy something from their exclusive range.
Rockhampton – 288km
Although Rockhampton tends to be overlooked as a holiday destination, it does have some great drawcards and is definitely worth a stopover on your way through.
The Rockhampton Heritage Village transports you back in time, showcasing the regions colourful history for the century between 1850 and 1950. Explore vintage homesteads and cottages, antique automobiles, old world machinery and more at this charming historical attraction.
You can step back in time even further with a visit to the Dreamtime Cultural Centre, which offer tours led by knowledgeable Aboriginal guides, who provide insight into local Indigenous culture and history. The Ted Mitchell Gallery is also here, which features a thirty-four-metre sandstone display, depicting the culture of Indigenous Peoples from the Sandstone Belt region. There is also a gift shop selling genuine handmade souvenirs crafted by Aboriginal & Torres Strait Islander's.
Airlie Beach – 482km
You couldn't go all this way without a stop-over at Airlie Beach, with its spectacular sandy beaches and relaxed small-town vibes. Stinger season is from November to May, so during these months it's best to swim at the man-made Airlie Beach Lagoon, located on the beachfront of Airlie Bay.
Townsville – 272km
Townsville is more than a stopover on your way to Cairns, you can easily enjoy several days at least, including a visit to nature-lovers paradise – Magnetic Island. Just a short ferry ride from Townsville, this residential island offers secluded beaches, beautiful scenery and abundant native wildlife.
Back on the mainland, spend some time at The Strand, a palm-tree lined beachfront promenade, chock full of activity. The esplanade is two and a half kilometres long, and features a plethora of cafés and restaurants, picnic facilities and a water park. The jetty is a great spot to take a walk and look out across the ocean to views of neighbouring Magnetic Island.
For a birds-eye view, visit Castle Hill and take the walk up to its lookout point, the many trails provided here are popular – more than two and a half thousand Townsville locals use them every day.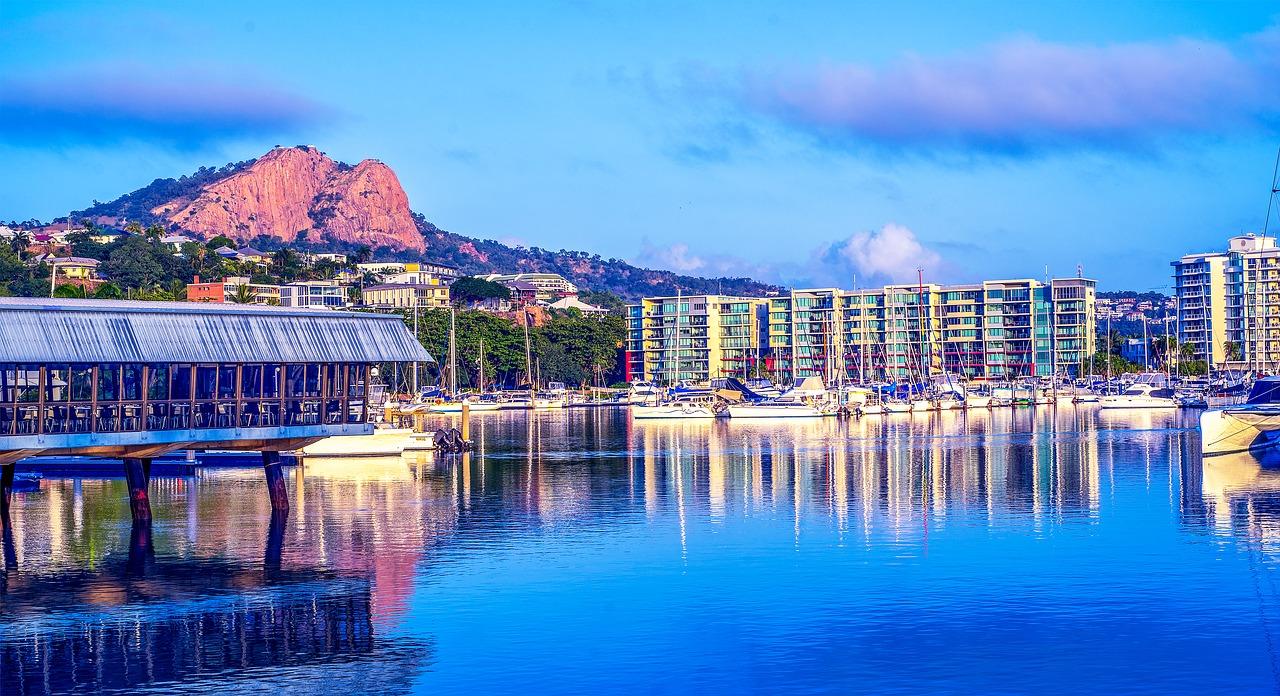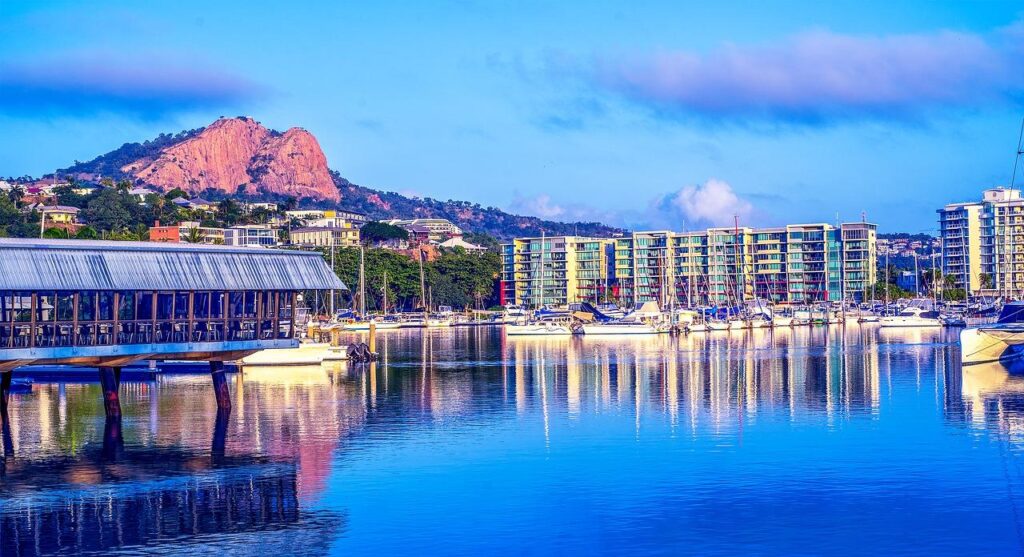 Cardwell – 165km
The beach and rainforest intertwine on the Cassowary Coast at Cardwell. The town features a delightful beachfront esplanade, which provides many picnic locations, displays community artwork and offers playgrounds for the kids.
The whole family will delight in their visit to the Cardwell Spa Pool, a unique seasonal swimming hole that is a magnificent shade of bright blue. Naturally fed from a local creek, the waterhole is easily accessible inside the Cardwell State Forest.
The impressive Murray Falls are also located close by, in the Girramay National Park, and offer another beautiful display of nature. The National Park contains a campground which you might like to overnight in, or otherwise a day use area for those just passing through.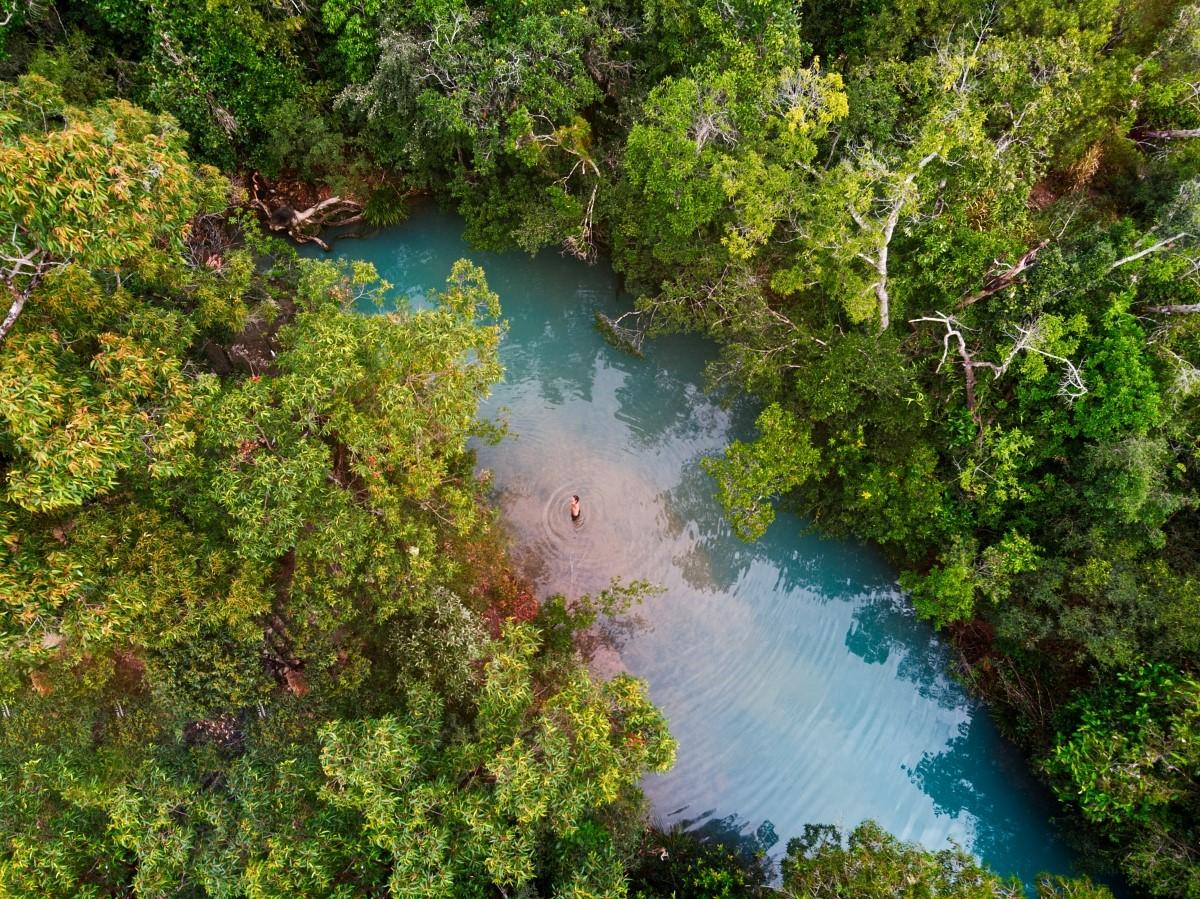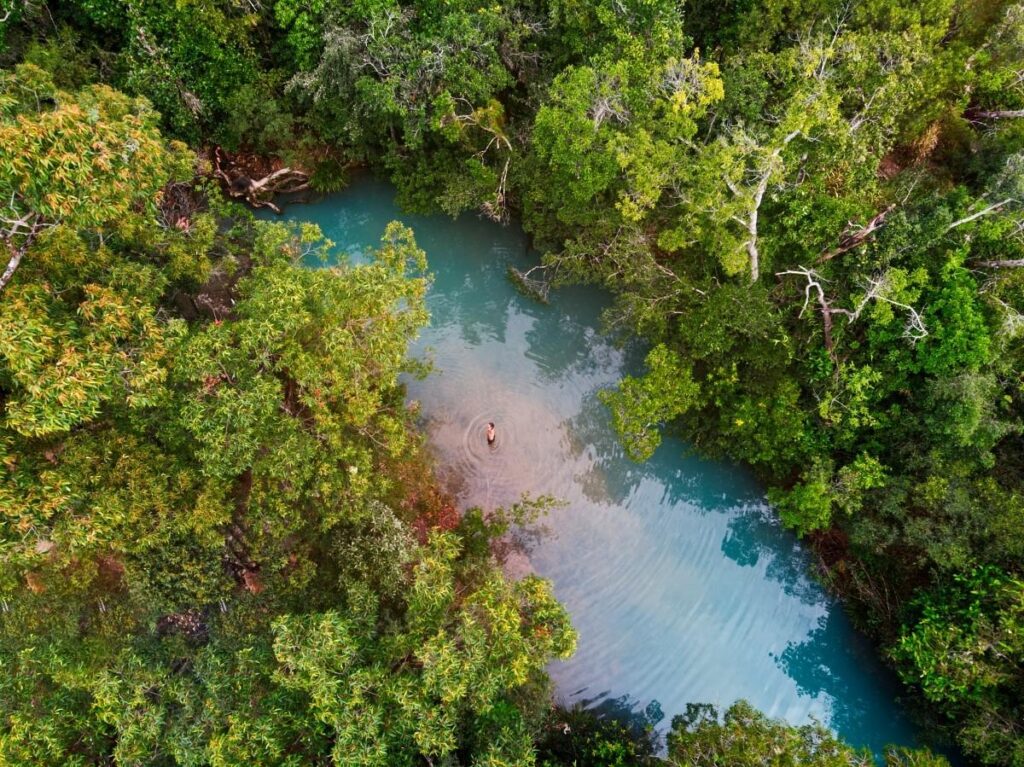 Cairns – 182km
On the drive between Cardwell and Cairns, make a stop at Paronella Park to tour their extraordinary tropical paradise. Its stunning architecture, five hectares of gardens, native wildlife and the option to partake in feeding their resident fish, all make it a definite must-see location.
Your arrival into Tropical North Queensland's gateway city, Cairns, marks the final stop on the itinerary. Make sure to give yourself enough days to enjoy the region, as there are a vast number of attractions to experience.
Kuranda is a stunning town in the mountains, and a perfect opportunity to experience the rainforest up close. There is both a railway and a skyrail here, and if you have a full day – it's worth going one way on the train and the other on the skyrail. The views are spectacular, and sure to be enjoyed by all members of the family.
The Australian Armour & Artillery Museum exhibits a huge collection from the 1800's to modern day, and has interesting displays from both the World Wars. The Cairns Museum houses five different galleries that showcase the history of Cairns, including wildlife, architecture and Aboriginal culture.
You can't come all the way to Cairns and not explore the Great Barrier Reef (if you didn't already do so from one of the other coastal stops along the way)! There are SO many choices of cruise tour operators, and depending on the ages and activity preferences of family members, you can go snorkelling, diving or swimming on one of these reef and beach day trip adventures.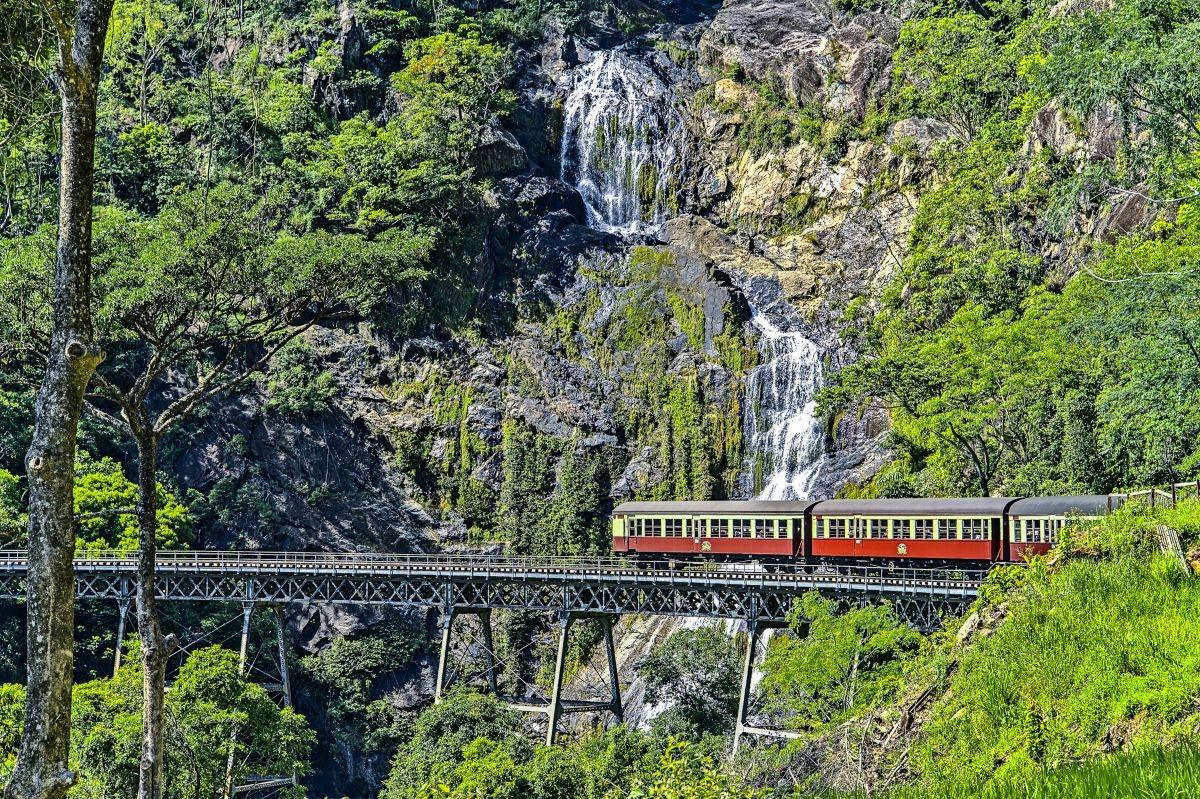 Other Travel Tips
If you don't have time to do the entire trip, you can definitely break this down even more – such as Sydney to the Gold Coast, or Gold Coast to Cairns for example.
Paid campgrounds and free camp sites are easily accessible along this journey, and the easiest way to find them is via the free smartphone app "Discovery Roadtrip". This useful tool allows you to search by map region, and can be used to prepare in advance, or on-the-go throughout your vacation, providing you freedom to travel at your own pace.Written by Leila Gear from Discovery Campervans.