Since March 2002 National Database and Registration Authority (Nadra) serving Pakistan citizens with their great services with a sophisticated computerized system. It helps in reducing identity theft to a bare minimum. In Today's world, nearly all organizations serve their customer or people with the online facilities.
As per the need of this 21st century, Nadra in Pakistan also decided to facilitate the people of Pakistan with the online system. So, Nadra decided to serve people with online and SMS facilities. In today's world, everyone has a mobile phone so with the SMS facility offered by Nadra you can simply send a message through your mobile and get updated with your status in your home no need to go anywhere now.
So, if you want to know how to check the Nadra id then you are in the right place now.
Status that you can check?
Here we mentioned three things that you can check:
CNIC
Family registration certificate (FRC)
Child registration certificate (CRC).
How to check CNIC status by SMS?
As mentioned early that Nadra has launched the SMS service for their people to facilitate them. Follow the instructions then you will be able to check CNIC status by SMS:
The code that is announced by Nadra for SMS service is 8400.To enjoy this service you should follow some simple instruction to get updated with your status.
Open write message portion in your mobile message app.
Enter your application tracking id (it is the id that is provided by Nadra office where you first time submit application form for id card in return office issue a small slip that have an applicant tracking id) and just send it to 8400.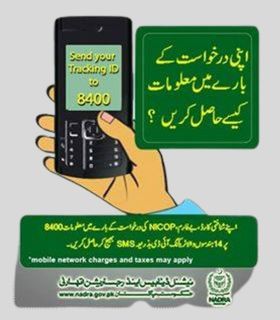 Shortly you will receive a message from Nadra on your mobile in which all the details will be given about your status for CNIC.
It is easy 3 steps and you will have all your problem solution in your home on your mobile phone.
Besides SMS service Nadra also provide their people the online service as mention earlier.
Let's check out the procedure for online status checking.
How to check Nadra id card status online?
To check your id card status online you must have an account on Nadra's official portal. So, if you already have an account then it's great you can easily check your status by simply login otherwise you have to create your account on the Nadra portal in just a few minutes. To register yourself on the Nadra portal the procedure is:
After that terms and policy window will be open from Nadra.
Now click the accept button.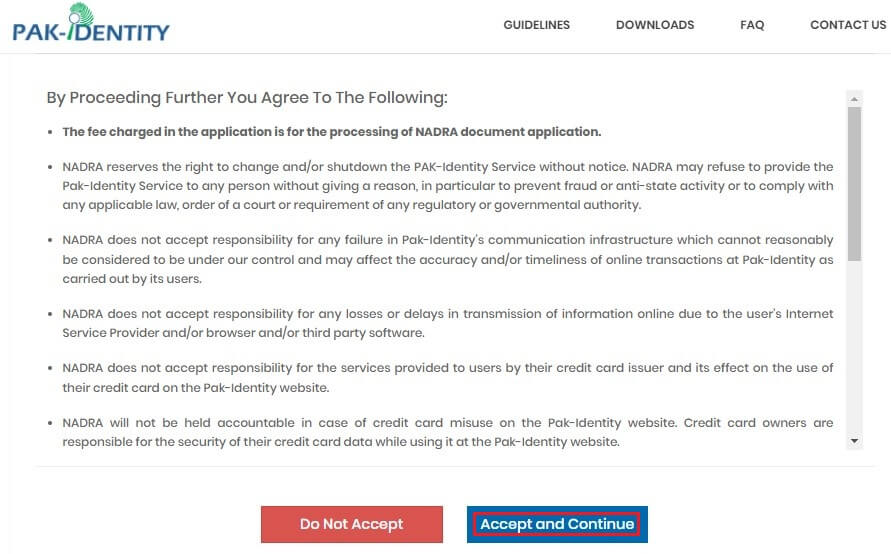 After that on next screen you will see the CNIC/NICOP option. Right, there is option available "apply now" to check your application status.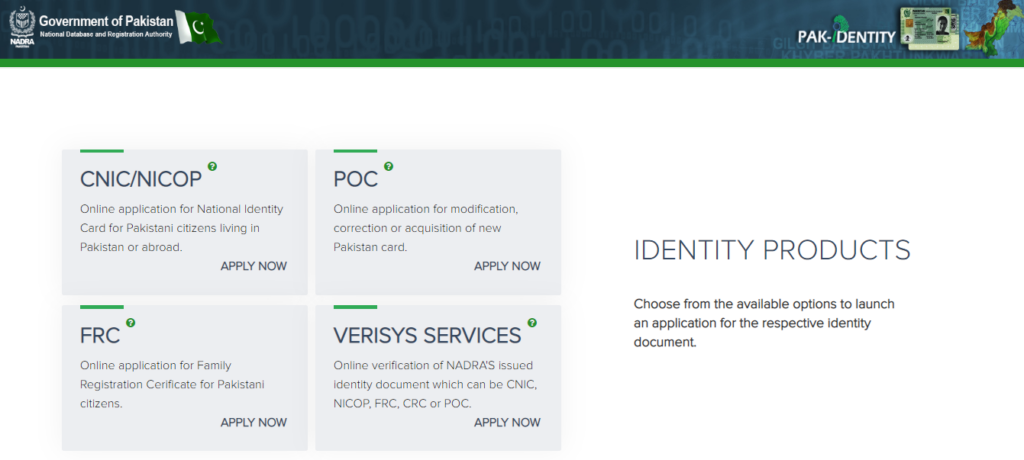 Now in next window you will see the option "existing application" which means already submitted application click on it.
In last step simply click "tracking id" to check status.
Besides facilitating the people in Pakistan Nadra also offer the services for overseas Pakistanis. The people who are residing abroad with (NICOP) can travel all over the Pakistan without require a visa.
The NICOP is a registration document issued to eligible citizen of Pakistan. please note that the passport number is mandatory for new born babies who are born abroad.
Let's check out the process for overseas Pakistanis.
How to check the id card status outside the Pakistan?
If you are from out of country then you can easily check the status of ID card. You have follow the insturctions that mentioned below then you will be able to check ID card status outside the Pakistan:
Go to NADRA official website.
After that you need to click on "check status"
Now enter CNIC no in field.
Click on card type (NICOP or POC).
Enter captcha.
In last check status and get updated.
Final Thoughts
Here we mentioned all possible methods by which you can check your CNIC status easily. If you are from Pakistan but outside of Pakistan, you can also check the status by following the method that we mentioned above. We recommend you to check only from an official Nadra website.