No matter if you are an experienced web developer or a newbie, I'm sure that you at least once found yourself in a situation where you were forced to reinstall something on your PC. And usually, it's not a problem, as you have just enough time to go and brew a fresh cup of coffee while it's installing in the background. The problem occurs when we have to install multiple pieces of software at once.
As the time required to do this quickly adds up, and all of a sudden, it's two hours later, and you only just now finished installing everything you need. In the case of WordPress, this usually happens when we do a hard reset of our website and when we uninstall all of our plugins.
Thankfully there is a solution to that problem, and it's called bulk installing. And yes, of course, you can just keep a list of all the plugins you use. But by doing so, you will be wasting precious time searching for plugins instead of working. That's why we propose a solution. Automize this process, and let a program do all the hard work for you.  This is where WP Reset comes in.
What is the WordPress Reset plugin?
WP Reset is a premium plugin for WordPress that focuses on delivering a streamlined web development experience by offering its users a bunch of valuable features. And while we're going to run through most of them quickly, we will be taking an in-depth look at the collection feature. Let's get started! Just like previously mentioned, WP Reset is a plugin designed for WordPress.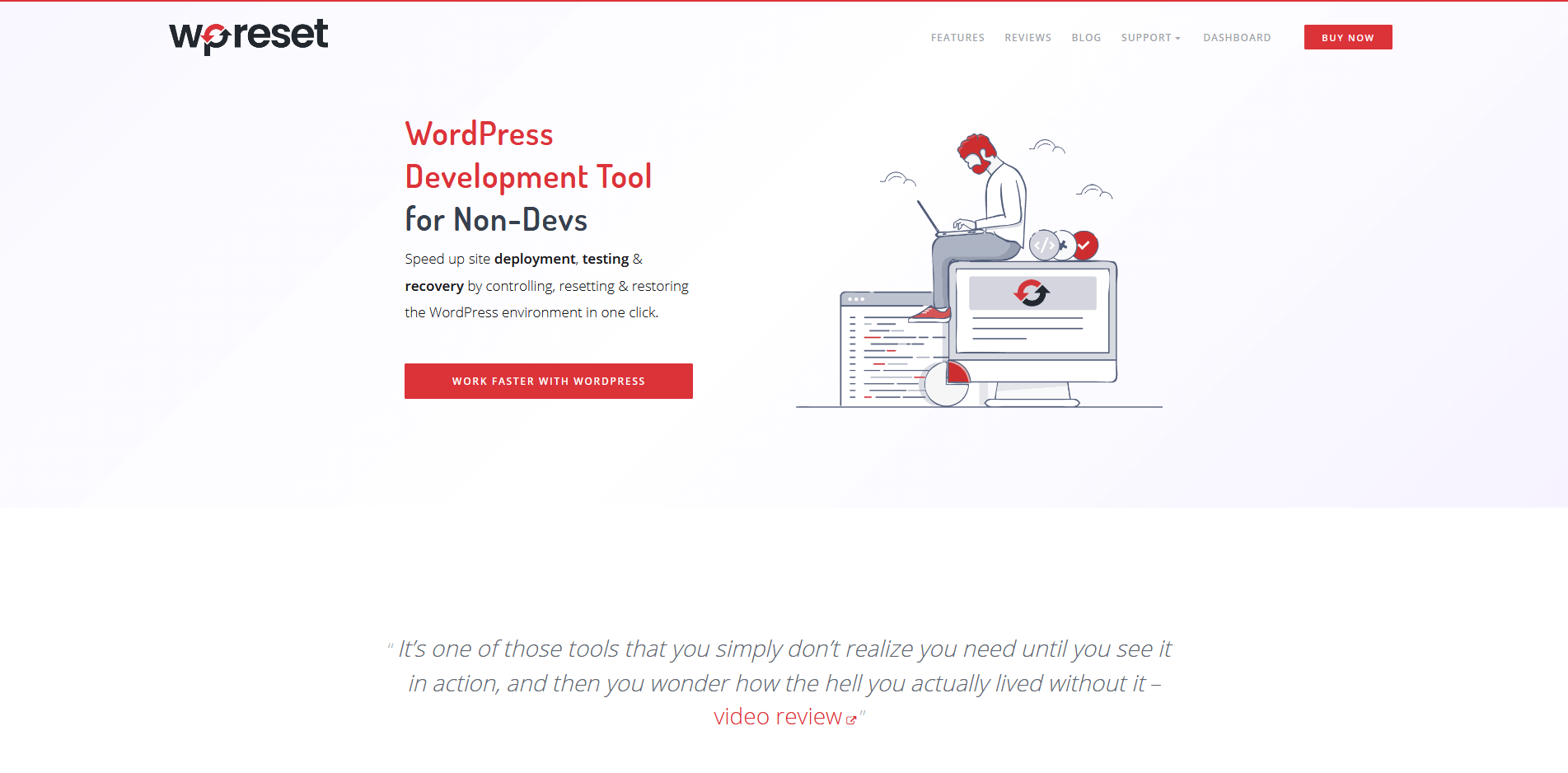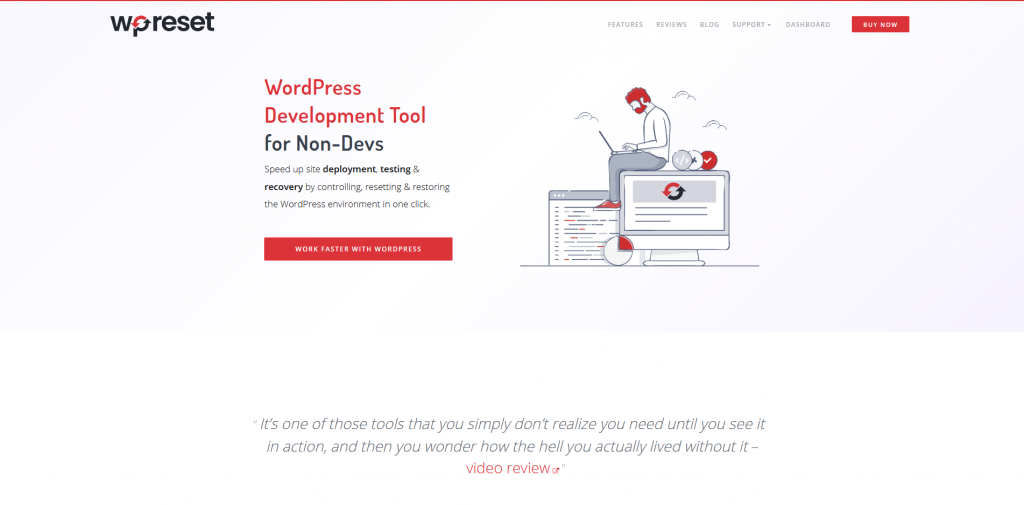 To use it, you simply add it to your WordPress dashboard like you would any other plugin. And when you load it up, you will be greeted with features like snapshots which let you periodically save your progress, just like a quick save in a videogame, or the cleaning tools which recognize and remove junk left from previously installed plugins. Of course, it would be a lousy reset plugin if it didn't give you the option of resetting your website. And in case you are a business, fret not, as this plugin was developed with companies in mind. With Whitelabel options and centralized control, implementing WP Reset into your business is quick and painless. But I'm getting ahead of myself. One of the most remarkable features that WP reset offers is the Collection feature.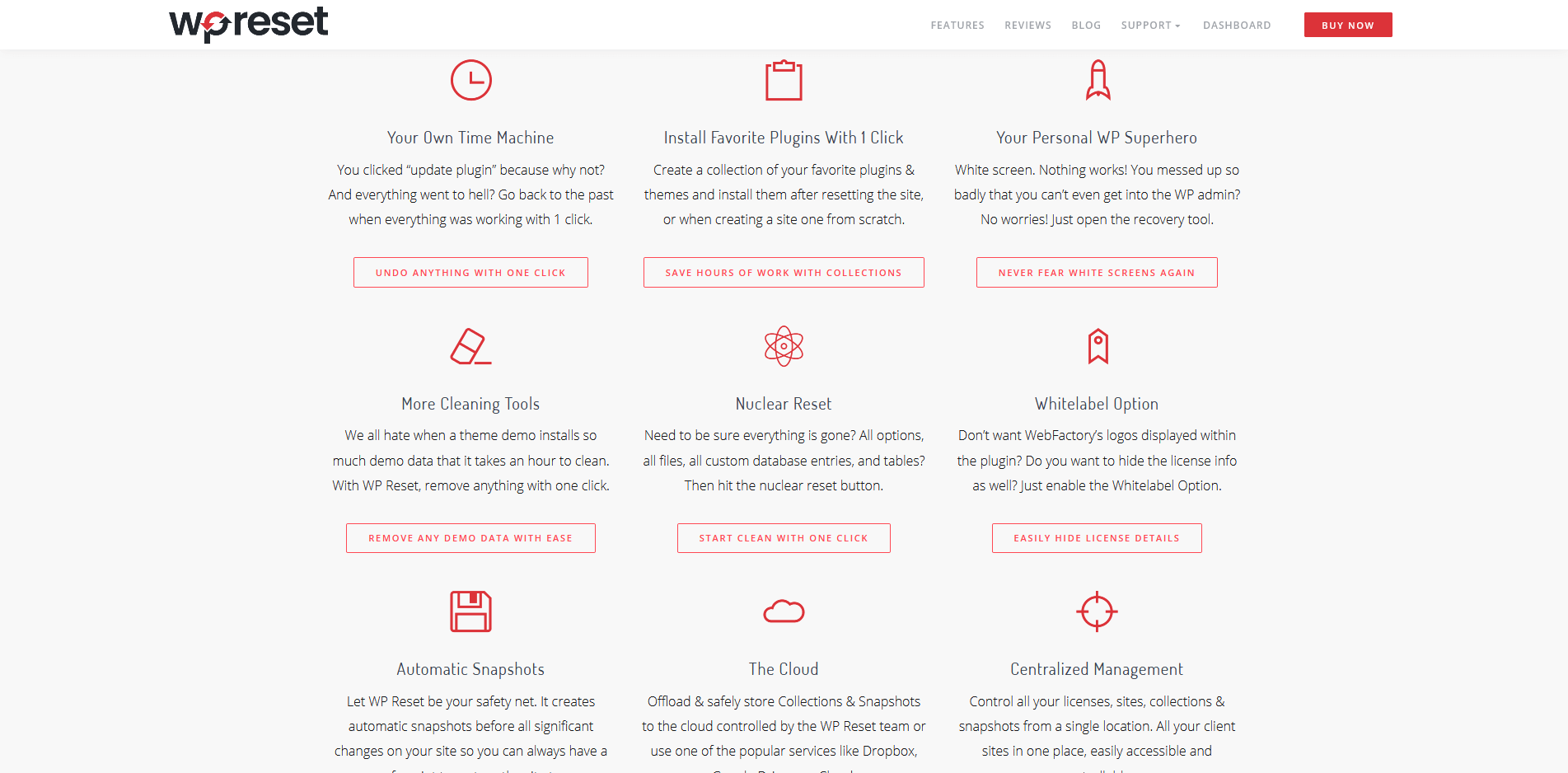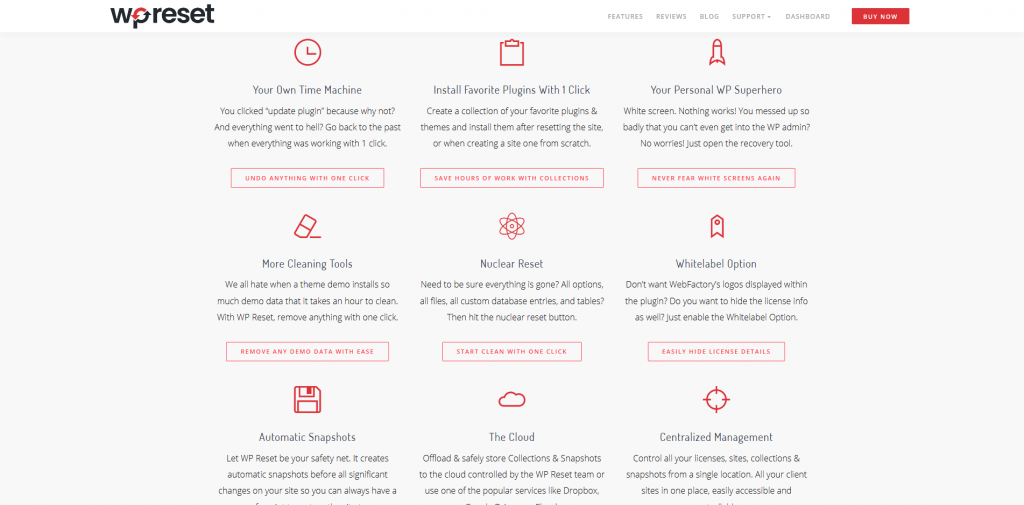 Using the collection feature, you can create and collectively install plugins that can be quickly and easily accessed through the WordPress Reset plugin. By doing so, you can automatically install all of them in bulk without having to sort through notes. Be it free or premium plugins WP Reset will automatically install them from their official repo or zip file. And since we mentioned premium plugins, you can automatically have WP Reset take care of inputting in the license key. Once you create a collection, you store it in the cloud.
Now depending on your preference, you can use WP Resets cloud or a third-party one. Having said that, all data and license keys stored on WPR's cloud are encrypted, so you and you alone can only view it. Once that is done, you can access your collections anytime and anywhere. And don't worry, you can, of course, still, edit it once it is saved, so there is no reason for you not to try out new plugins or themes. If you find that you fancy them, simply choose the collection you want to edit, and click the add new plugin or theme button. And not to mention that adding plugins is easy. You first need to choose whether you are installing a plugin or theme. Once you do that, select the source. If you are directly linking to WP.org, you will need to input the slug. Unfortunately, WP Reset still doesn't support accurate live slugs, but by inputting a web slug that describes a particular string in the website's URL, you can add the plugin to your collection. For example, if you want to add a plugin to your website https://wordpress.org/plugins/sticky-menu-or-anything-on-scroll/, you would simply have to copy the sticky-menu-or-anything-on-scroll part. And if you plan to use a ZIP file as a source doesn't get any easier. Just pick the file From your pc, and you are done.
Once you have a collection that you are happy with, it's pretty much a done deal. The next time that you want to reset your website, you just find the collection you need and install it with a few clicks. Using collections can come quite in handy if you are managing your client's website, as WP Reset provides you with the option to automatically delete all previously installed plugins and subsequently install those from your collection. This can be quite the time-saver in certain situations.
And that is pretty much everything you need in order to quickly and efficiently reinstall plugins on your PC. And of course, there are other plugins out there, but unlike WP Reset, they don't offer the same amounts of features. And by limiting the number of plugins you use, you can further optimize your performance and work speed. You will get the personal option for the low price of $39, which will give you access to all features except the license manager and Whitelabel mode.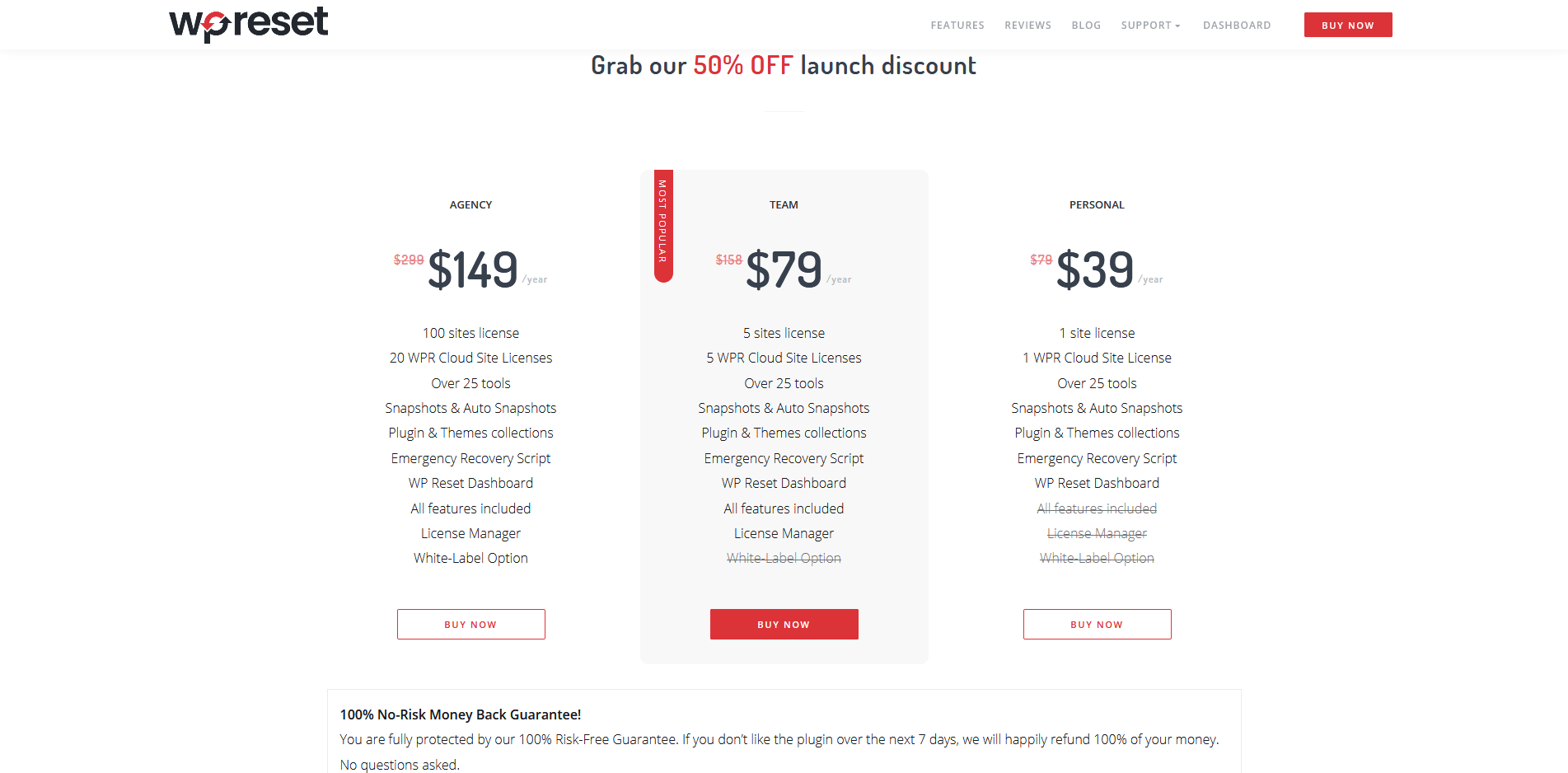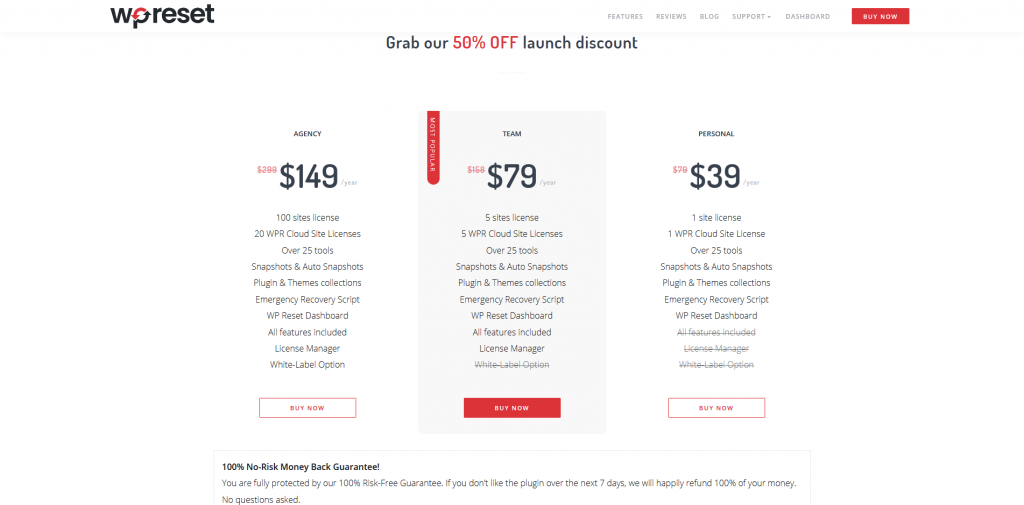 In conclusion
Reinstalling plugins can be significant pain. And to mitigate the mind-numbing task of searching for plugins, downloading them, cross-referencing which are installed and which are not, etc. We offer a simple solution in the form of a premium plugin. Using WP Resets' built-in collection feature, you will save time and make the program do the work for you. Setting collections up and reinstalling them on your site has never been easier. With a few clicks, you will be back in business. So go and save yourself some time and get WP Reset.