The pure and selfless relationship between a mother and her child is inexplicable. Even in the animal world, we see how children cling to their mothers for refuge and comfort. It is said that when a woman is aware that she is pregnant, her motherly instinct kicks in to protect her baby. Consequently, mothers are generally devoted to their young.
Unsurprisingly, several artists throughout art history have depicted the unique relationship between mother and child, with some even devoting most of their artistry to it. Whether it's the many renditions of Madonna and Child or one of Cassatt's classic paintings, several paintings across different genres display the mother-to-child bond in various ways.
Perhaps it's the sweet warmth of motherly love or the contented bliss that boldly adorns the child's face, and such paintings typically stir emotions that are hard to resist; they appeal to sentiments. This article examines some breathtaking paintings depicting the familial bond between a mother and her child.
Mother Playing with Her Child by Mary Cassatt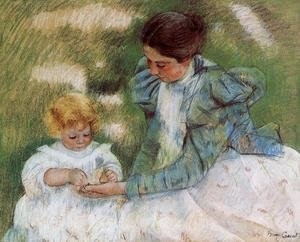 Cassatt was an American Impressionist domiciled in France. She is renowned for her depictions of women, particularly memorable mother and child paintings. Cassatt devoted most of her career to portraying women as primary caregivers to their children.
This particular painting was created in 1897 and portrays a mother playing with her little daughter on the grass. They are both dressed in white outfits, with the mother donning a green jacket on hers. The mother's hand is stretched towards her baby, playing with flowers.
Although the grass they are sitting on is rendered in sketchy form, Cassatt has skilfully portrayed their skin and figures in general. For example, she has added details to show that the little girl is blushing. The painting is currently at the Metropolitan Museum of Art in New York.
L'innocence by William-Adolphe Bouguereau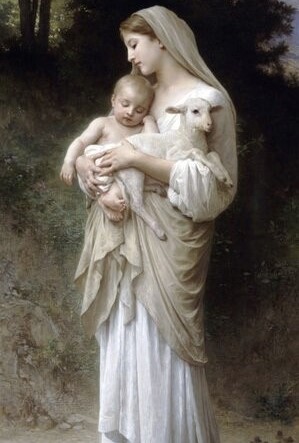 Bouguereau was a French Academic painter famous for his mythological and religious works. His artistry predominantly focused on the female form. Most of his paintings feature women as his main subjects. Bouguereau enjoyed a very successful career. His paintings brought him fame and fortune with several honoraria at home and abroad.
Bouguereau produced several images for the Catholic Church during his career. One of such paintings is this 1893 oil-on-canvas painting of the Virgin Mary and her infant son. Bouguereau deliberately uses a lot of white to emphasize the title of the impressive mother and child painting further. From the color of their skin to Mary's robe and the spotless lamb she is also carrying, Bouguereau attempts to portray his characters as ultimate symbols of purity.
The symbolism in the image alludes to Jesus' future sacrifice, as a spotless lamb led to the slaughter. The graceful depiction of Mary also conveys how she has made peace with the sacrifice that will be expected of her son.
The Music Lesson by Lord Frederic Leighton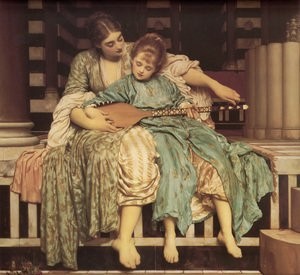 Leighton was an English artist of the 19th century who primarily painted biblical and historical scenes in the Academic style. His paintings were precious during his career but eventually lost their appeal when Academicism became popular around the early 20th century.
This painting by Leighton is a breathtaking depiction of a mother teaching her daughter how to play a stringed musical instrument and is a fine example of Academic art. Also, Leighton's experience as a sculptor is evident in the realistic sculptural background he has positioned his subjects in. The girl and her mother are dressed in delicate fabrics that fold into waves, suggesting together with the setting that they come from wealth.
The girl rests against her mother's bosom as she learns, and her mother watches over her carefully as she attempts to play the instrument. The oil-on-canvas painting currently resides at the Guildhall Art Gallery in London.
Calinerie (A Little Cozxing) by William-Adolphe Bouguereau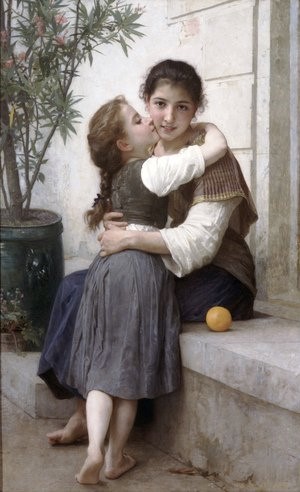 This second entry by Bouguereau is probably the most sentimental painting on our list. The image is sure to hit most viewers' soft spots as it depicts a young girl kissing her mother on the cheek as their arms wrap around each other. The Ultra Realistic oil-on-canvas painting is rendered in Academic style and was produced in 1890.
As the name suggests, the little girl is probably trying to sweetly convince her mother to let her have the orange beside them on the concrete pavement; perhaps that is what the kiss is for. Bouguereau has painted both ladies barefooted, as was his way of depicting rural women.
The little girl takes a step toward her mother with her back turned to the viewer. However, the mother looks straight at the viewer with a knowing smile. The smile says she can tell what the little cajoler is up to as this probably isn't her first time. A private collector currently owns the painting.
La Promenade by Claude Monet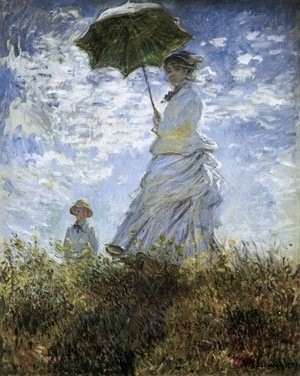 Monet was an iconic French painter known as the founder of Impressionism. He is renowned for his breathtaking depictions of the water lilies in his pond.
Also called Woman with a Parasol, this 1875 oil-on-canvas painting is a portrait of Monet's wife Camille and their seven-year-old son Jean. The mother and child are captured taking a stroll in a meadow on a windy afternoon.
The colorful painting depicts the mother and child dressed in white, set against a background of a rich blue sky with white clouds and rich green grass. The mother's parasol or umbrella is the same shade as the grass. The painting currently resides at the National Gallery of Art, Washington DC, USA.
Conclusion
It comes as no surprise that the mother and child iconography is one of the most common in art history. Even in religious paintings, Mary and baby Jesus are a constant motif. So it is safe to say that as long as the mother and child bond remains part of the human experience, paintings commemorating it will also keep flourishing.