Are you looking for making the URL shorten in 2022? Then you should try the "IP Logger". This is the best ever "URL Shortener" in 2022.
No doubt, they are many others software and website available that provide making URL shorter facility but believe us, we recommend you to use only "IP Logger". If you have a question on your mind that why we will use only this then you have to keep patient and we completely explained about this website. Let's take a look at what is IP Logger?
What is actually "IP Logger"?
"IP Logger" is a basically URL Shortener that can make URLs shorter with complete analytics reports whether blog, forum or website, its work on all.
Further, you can easily find your IP address, location of IP address, and can track the exact location of any mobile device or PC, check URL for redirects and safety. These are all possible when you used them.
With the help of an advanced system, you can easily check the latest information on each link when someone visits your site through the shorter link. You have various paths to collect detailed analytics and track IP addresses: short links, an invisible pixel, a unique geo-logger service.
How to make URL shorter on "IP Logger"?
Making URL shorter is an easy task with the help of this. You have to follow the instruction then you will be able to completely and easily covert a long URL into a shorter form:
Visit an official website "https://iplogger.org/"
Enter the "Long URL" that you want to make it shorter
Click on "Shorten" Button.


Now you have done it, there will mention all details related to long URL, short URL, location, and IP address. Further, the it also provides the other shorter URL facilities such as:
URL & Image Shortener
Invisible image
AnoniMailer
IP Tracker and URL Checker
Location Tracker
View Logger Statistics.
All features are available with one click. When you will visit an official website then scroll down and you will have these all features. You can select anyone according to your perception need.
How to Create an account on "IP Logger" and sign in?
Creating an account is an easy process. You don't need to go anywhere. Here we mentioned all details that how to create an account and sign in. Make sure you follow all steps mentioned below:
Visit an official website "https://iplogger.org/"
Click on "Sign up" button mentioned at the top right corner
Enter the "Gmail" and set the "Password"
Verify you are not robot
Then click on "Sign up" button.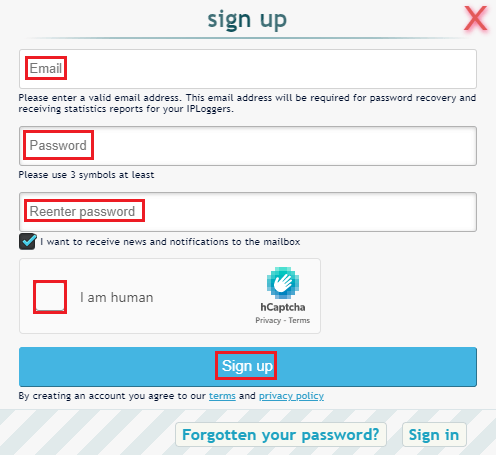 Now you have done and successfully created an account. After creating an account this will redirect automatically the logged in. Make sure you verify your account by clicking on verify link sent by the official IP Logger website.
Features and Benefits
Almost all software and website have their own features and benefits that make them unique from others. Same as "IP Logger" has its own features and benefits that make it valuable and unique from others. Here we explored some features and benefits:
It is not just a URL shorten, also provide the complete information about your URL such as traffic stats, IP address, and location of IP address.
URL & Image Shortener: It's also provide the shorten URL for image URLs, most of other shorten URL sites doesn't have this feature.
Invisible image: You can also generate invisible IPLogger images to get more traffic and benefits for own website. Consent with T&C and Privacy Policy required!
AnoniMailer: it also provides the mailing facility without any spam, advertising mailings, hackings, and attacking robots.
IP Tracker and URL Checker: it's also provide the IP tracker and URL checker information. You can check now IP location with full details and URL stats that URL is redirected or normal.
Location Tracker: You can also generate location tracker links and find out the exact GPS-based location of any mobile device.
View Logger Statistics: when you have created IPLogger or Shorten the link then you can view the all stats about the specific link.
How to Install an official "IP Logger app"?
No need to go anywhere, you can find an official app link on an official website "https://iplogger.org/". Follow the instruction to install an app without any troubles:
Visit an official webpage
Click on "Get it on Google play"
Download and install it.
Note: you can also find this app on "Google play store" directly. Just type "IPLOGGER URL Shortener" in the search bar and install the official app. This app is also available on "the iPhone". Same procedure for installing the app, just you have to open "Apple store" instead of "Google play store".
Final Thoughts
"IP Logger" is the best even platform for converting the long URLs into the shortest URLs. Hope you will try it like us. This is not only bound to URLs converter, but it also has a lot of many features that we explored above.
FAQs About the "IP Logger"
Is IP Logger legal?
Yes, when we talk about the single IP address, you can check all details about the URL location, IP address, and so on. This is a totally free tool that provides URL converting facilities, nothing doing against the law.
Does IP Logger have an app?
Yes, "IP logger" has an app that can download and install it from the Google play store.
When was Register the "iplogger.org" website?
"IP Logger" is registered from the "Registrar Epik Inc" on 2011-04-03 and will expire on 2023-04-03. Recently update on 2021-09-17.