There are many salwar kameez designs on the market. In this article, we will help you know the best type of salwar kameez style you can buy.
Introduction
On the market, there are many types of salwar kameez styles, and that can make you confused when shopping. But you don't have to be aware of every available style; you just need to know a few styles that can go well with your body shape and make you stand out. You probably have the ordinary salwar kameez comprising a salwar, a tunic, and a dupatta. When you learn some of the latest salwar suit designs, you will definitely go shopping. The latest styles are perfect and will make you look stylish on any occasion. Keep reading to learn more.
Salwar Kameez Types
Here are the popular salwar kameez styles you can find on the market today:
Anarkali Style Suit
Anarkali-style salwar suit is not a new style. It has been there for years but has been improved a bit by fashion designers. The style features a long flared kurta. The more flares the outfit has, the more elegant you will look in it. The kurta can be of different lengths, but one touching the ankle is considered the best for many women. The kurta can be embroidered or have minimal decorations. The bottom is slim fitting and has little or no decoration. This salwar kameez style can be worn on weddings and other occasions. Even brides choose it.
This is the most popular salwar suit in the fashion industry. The style features a long straight-cut kurta which is paired with a churidar bottom. Note that if the salwar suit is plain with minimal details, it is accompanied by a printed dupatta. If the suit is heavily embroidered, it is paired with a plain dupatta or one with minimal decorations. You can wear this style to the office, pre-wedding, wedding, festival, or any other occasion.
If you want to look youthful and modern, you can go for dhoti style salwar suit. This style features short Kurtis reaching the knee level or above. The dhoti-style bottom is loose at the upper leg area and tapers gradually towards the hemline. This salwar kameez style is perfect for young ladies and adults who want to look youthful.
Punjabi style salwar suit is an old style that has been improved to fit today's fashion. This style comprises a short kurta paired with a Patiala salwar. The outfit is also accompanied by a plain or embroidered dupatta. This style allows you to flaunt your hanging earrings and statement necklaces.
Palazzo pants have taken center stage in the fashion industry. It is worth noting that these pants are versatile and can be worn with a wide range of blouses and tops, including tank tops. The palazzo style salwar suit features pants with loose, wide legs that flare out from the waist. The palazzo pants are accompanied by a straight-cut kurta and a printed or plain dupatta. It is an excellent style for parties and festivals.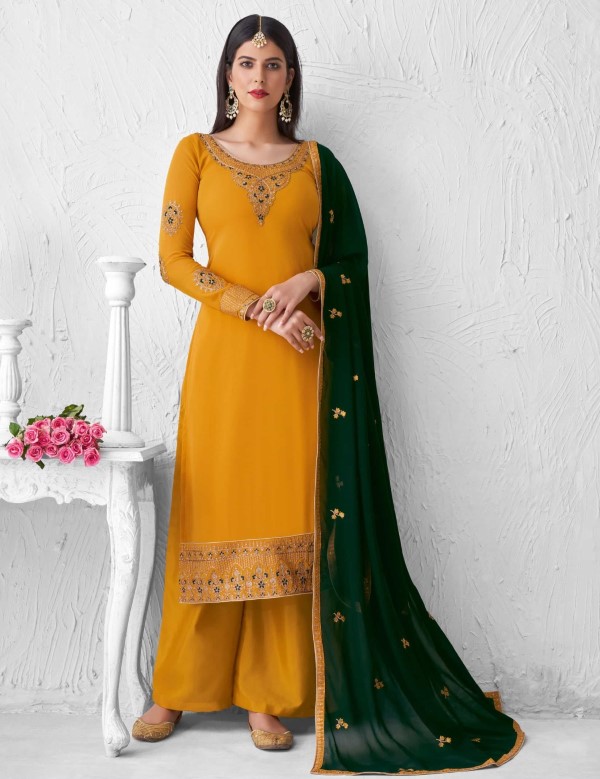 You should try the jacket-style salwar suit whenever you want to flaunt a new style. This style features a sleeveless kurta and a stylish jacket. The jacket can be made of net, chiffon, or any other fabric. Additionally, if the kurta is plain, the jacket should have embroidery or decorations. The bottom can be a normal salwar or churidar. Note that if you choose this style, you may not need to wear a dupatta.
Capes have become a perfect alternative to jackets when wearing Indian salwar kameez. You can now find many cape-style salwar suits on the market, and many women buy them for their elegance. You can also join the club by purchasing an ankle-length Anarkali suit with an overlaying cape. You can also opt for a sleeveless Kurtis with a cape.
Sharara Style Salwar Suit
Sharara pants have made a huge comeback in the fashion industry. Today, you can find salwar suits with sharara bottoms. The sharara style means that the bottom is fitted at the upper leg section to the waist and flared from the knee down. You just need to pick the right fabric and colors, and you will stand out on any party.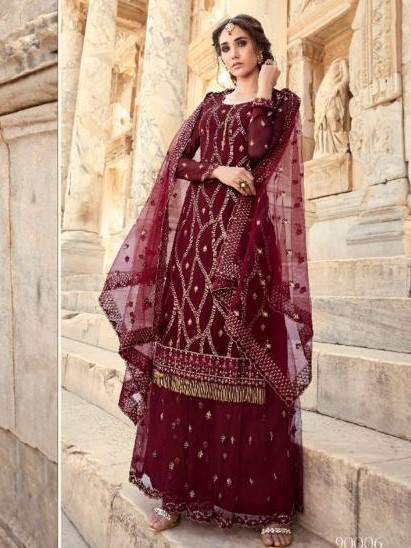 Other salwar kameez styles include the following:
Banarasi salwar suits
Afghani style suit
Double-layered Anarkali suit
Asymmetric salwar suit
Pakistani-style salwar suit
Pant-style salwar suit
Front slip salwar suit and more
Which is the Best Salwar Suit Style?
This is a challenging question because we don't have a straight answer. But we can say that most of the styles are great and can make one look stylish and modern. All we can advise you is to choose a salwar kameez style that goes well with your body shape. For instance, if you have an hourglass shape, you can choose an Anarkali-style salwar suit.
Additionally, you should be careful when it comes to colors. If you pick the wrong colors, you may not look as desired. Another factor you need to consider carefully to ensure you stand out with some of the salwar kameez styles is fabric. The wrong choice of fabric is a big mistake when choosing salwar kameez. Most importantly, you should choose a fitting salwar kameez regardless of the style, and you will look amazing. Note that even if you choose a jacket style or palazzo style suit which doesn't fit you properly, you will look awkward.
Final Words
If you only have the ordinary Punjabi style salwar suits, it is time to get the latest, stylish salwar kameez styles. As you have seen above, many salwar kameez designs are on the market. You just need to visit different stores and choose what suits your personality and body shape. It is important to note that some styles are suited for specific occasions such as weddings, parties, and festivals. So when you go shopping, take your time to view the different styles available, and you will buy a style that suits you.