A lot of people invest in acrylic nails which make it easy to give your nails the length and shape you want. Longer nails seem to be more fashionable, especially among women, but they're also a bit more impractical. Acrylics are perfect because they offer flexibility and durability. Shorter lengths are less likely to snap and work best for everyday use as they are less confining.
You might find nails that are edgy, and trendy. Or you might like looking for some more understated designs too. Either way, we have a selection of our favorite short acrylic nails just for you! Keep reading, and you'll find out everything you need to know about these cute nail art ideas that'll totally transform your manicure.
Short Coffin Acrylic Nails
Coffin nails are the shape that grabs everyone's attention. People can use simple nail art to take this shape to a whole new level! They're tapered near the bottom, but square-shaped at the top, and loved by style icons and social media influencers.
The length of this style makes your fingers look slimmer and gives a more feminine appearance. It can be long but can also be done on short nails for an edgier look. The nails are typically kept long in order to show off that shape and enable you to do more nail art, but they'll look great either way.
Trendy Short Acrylic Nails
There are many times when you might want to wear your favorite trend but need a way to make it more practical. That's where these nails come in! Short, wearable acrylic nails are just the thing you need. Short acrylic nails last longer and are much more durable, too!
Shorter nails don't require much maintenance and the possibility of snagging or chipping is minimal. They are also more practical, freeing you from worrying about limitations caused by longer nails. But they are far from being boring and you can choose whichever style suits your taste.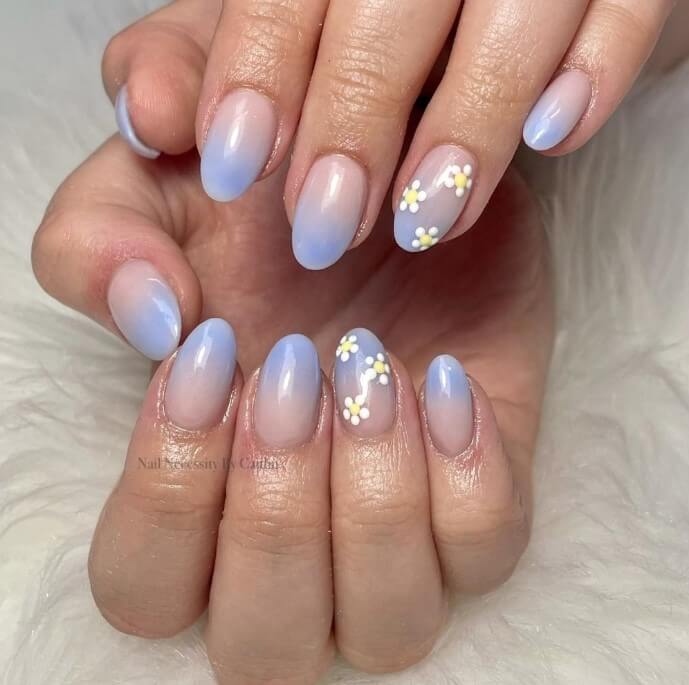 Short White Acrylic Nails
White nail polish is a favorite for many women because it is easy to wear and looks good with everything. The crisp, clean hue also draws attention to the hands without being too dramatic. This makes it an ideal choice for every day and will lend itself well to various settings, including more formal ones like weddings.
White is the perfect nail base coat as it's both classic and elegant. It also works for all nail lengths including acrylic, whereas black is edgier. A simple way to make your white nails more interesting is to add gold details.
Short Almond Short Acrylic Nails
If you are looking for a flattering, feminine nail shape, almond nails are a great option. The curve comes to a point at the top; their name comes from the resemblance to an almond. Have you noticed how nail shapes can help elongate fingers, which can be a good way to go when it comes to nail art?
Although many women choose to paint their nails a longer length when trying out this shape, it can also be done on short acrylic nails, and keeping them shorter can make the style more wearable. If you're looking for feminine nails that are also fuss-free, consider this option.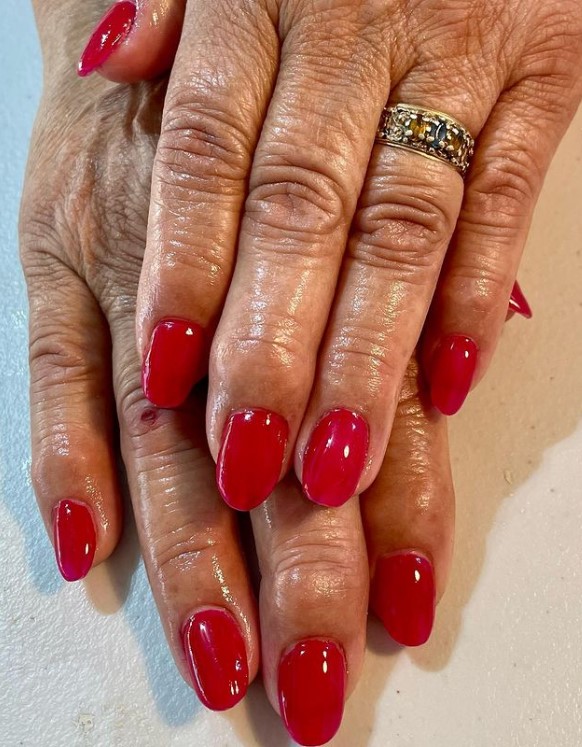 Short Natural Short Acrylic Nails
If you're looking for nail designs, you can get a great one that expresses your personality. Sometimes it's the simplest ones that look best because then you don't have to go back and keep painting them! Cute short nails are a nice way to express femininity too, right?
It's simple but so pretty. That means it can be worn anytime, anywhere, and just about with anything, and it'll always look good. Short nails last a long time so you needn't worry that your manicure is going to chip or do anything weird if you're meeting up for lunch.
Short Oval Acrylic Nails
Nails are a big deal and you have a lot to choose between – things like nail shape, length, etc. One of the most popular shapes is oval nails because they look good and can be both long and short. They're rounder at one end and more rounded at the other than round nails. This shape works really well and you can wear it for all types of occasions.
You can keep it simple with pink, nude, or white nail polish or get creative and add your favorite designs. You could do flowers, for example, or some sparkles.