In industrial settings, airborne dust poses a significant challenge to both worker safety and equipment efficiency. Cartridge dust collectors have emerged as a reliable solution for effectively capturing and removing industrial dust from the air.
Cartridge dust collectors are popular in almost every industrial sector. They effectively clean the air up to 99.9%. In this article, we will explore the working principle, applications, advantages, and maintenance of these gas cleaning systems.
Operating Principle of a Cartridge Filter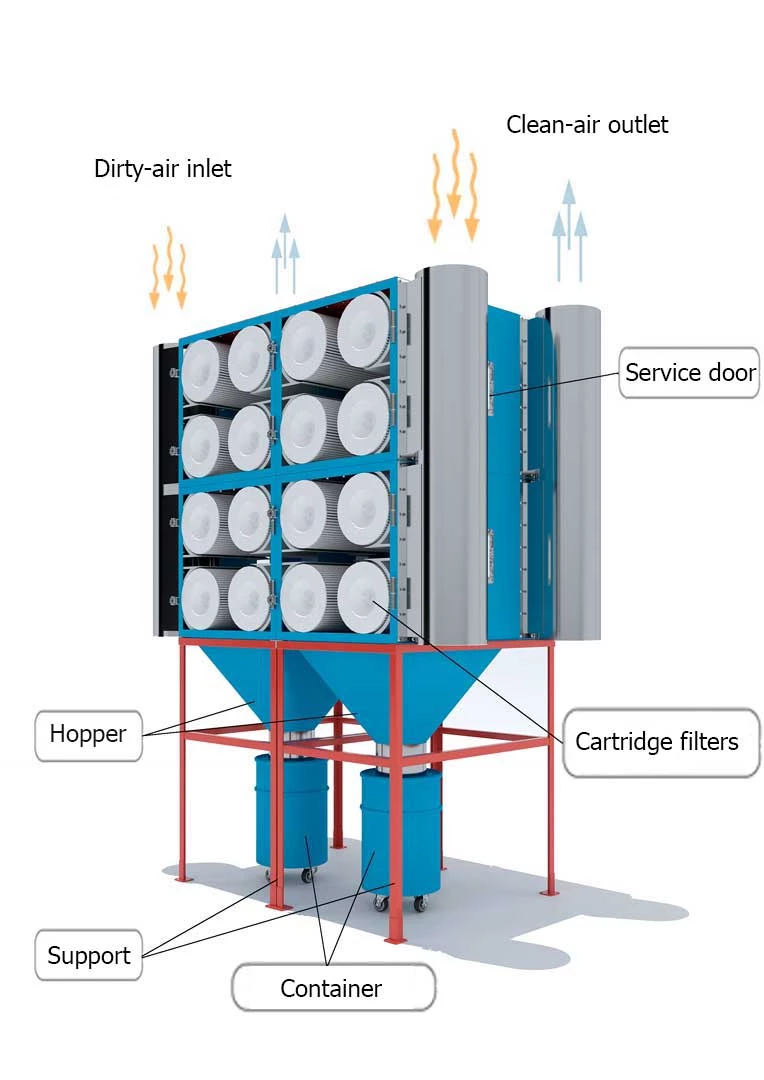 The contaminated air enters the dust collector through an air duct (or flue) into the dirty chamber. After that, dust particles settle on the corrugated cartridge. The purified air passes through the cartridge and enters the clean chamber. It then exits the filter using a fan, either outside or back into the room.
The cartridge dust collectors of our Torch-Air production utilizes corrugated cylindrical cartridges as the filtering element.
The cleaning of the dust-laden filter elements is carried out by a pulse of compressed air. Compressed air from the receiver enters the blowpipes through electromagnetic valves and then flows into the filter cartridges. The compressed air pulse dislodges the dust from the external surface of the cartridge. The dust, shaken off the filter elements, settles into a hopper and is removed from the filter through an unloading device.
Applications of the Filter
Rubber product manufacturing.
Welding.
Various metal cutting processes, including mechanical, plasma, and laser cutting.
Powder coating.
Shot blasting and sandblasting.
Cement industry and construction material manufacturing.
Iron and steel industry.
Woodworking and particle board production.
Chemical industry.
Food and grain processing industry.
Fertilizer production.
Textile industry.
Paper industry.
Glass manufacturing.
Aspiration of silos.
Advantages of Cartridge Dust Collector
Considered the best dust collector among all available options, it offers a range of advantages that set it apart from other similar dust collection equipment on the market today:
Very easy to use.
Reduced footprint suitable for areas with limited space, while still delivering maximum cleaning efficiency.
Simultaneously highly powerful.
Offers 25% more power than other units of the same size.
Unique cylindrical cartridges provide longer filter lifespan and high filtration efficiency, resulting in reduced operating costs for you.
Increased airflow capacity and extended filter lifespan due to convex side walls.
Compact size and affordable pricing have made these filters popular as local filters and ventilation units located directly at machines.
Required Maintenance Works
Weekly: External inspection, checking the functioning of transportation and unloading equipment (disc valves, conveyors, screw conveyors, etc.), draining the drainage from the receivers.
Quarterly: Checking the cartridge filters.
Biannually: Checking the connection of electrical circuits.
Annually: Checking the filter's efficiency of operation.
If you need assistance in selecting a dust collector, feel free to contact Torch-Air company!