Organizations have to deal with huge amounts of data to run it successfully. There are many complicated processes involved that ensure a smooth workflow. It is always important to share specific updates, documents, information, rules, and more within the organization.
Here HR SharePointcomes to the rescue. This site helps to share policies and handbooks easily with the employees.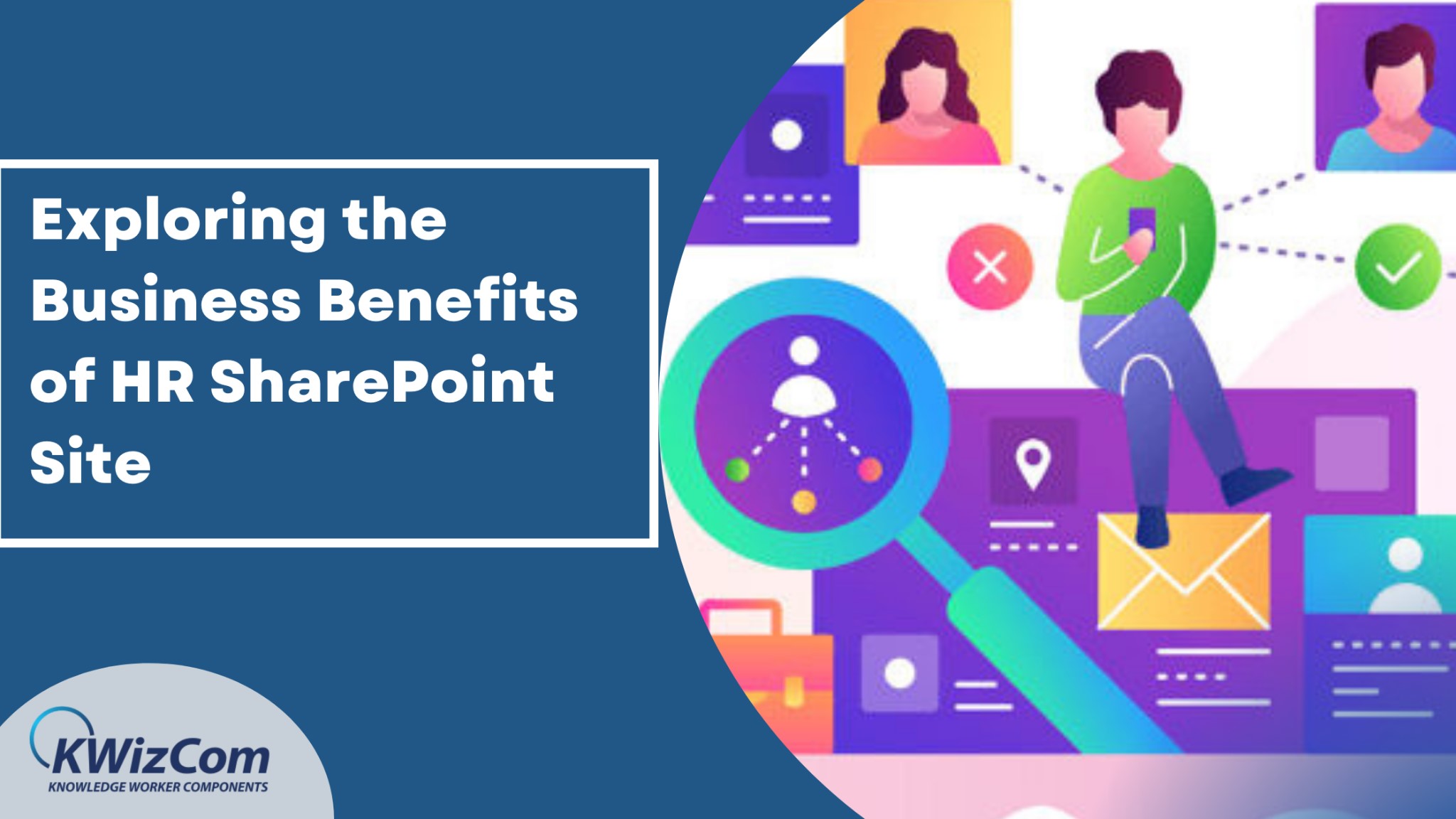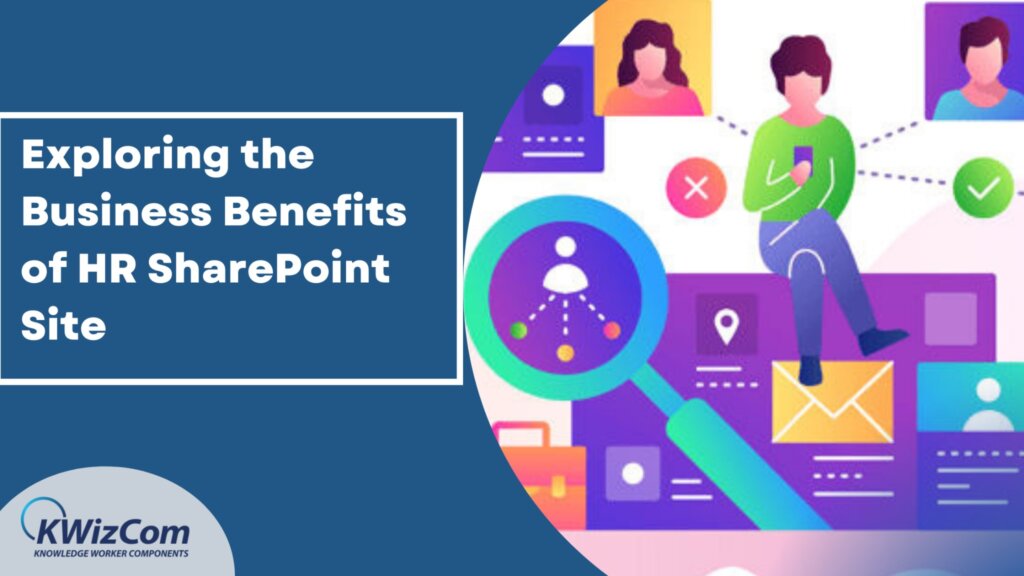 What is a Microsoft SharePoint HR portal?
Users can turn the SharePoint HR portal into a Human Resources site containing detailed employee information, hiring activities, performance processes, terminations, and onboarding benefits. It provides various features that help to share updated information in the organization.
Some unique features of HR SharePoint are:
Track Employee Information: It helps track details like contact, emergency contacts, address, training, certifications, and more. It gives access to all the documents in one place, which may be reviews, payroll, or benefits.
Document management: This is used to develop procedures, forms, and policies. It helps to ensure the employees are updated with the organization's requirements.
Cloud-Based tools: There is no technical knowledge required. As Microsoft SharePoint provides an easy-to-use tool and helps run business smoothly.
Employee HR portal: It lets the employees access the Human Resources information, the latest policies, announcements, and news. Managers can track reviews and send reminders to the employees based on their performance.
User Management: It is simple to add and manage the user accessibility and assign the rights to create and edit the content based on different departments.
Ease of Customization: Insert pages, logos, colours, and modules that deal with job postings, calendars, integrated workflows, and more.
Privacy and Security: HR deals with sensitive and personal information of the employee that needs to be highly secure. The SharePoint HR portal has alerts for unauthorized and authorized access to the data.
How do you plan to handle issues in SharePoint HR?
The HR SharePoint portal deals with a humongous amount of data, which means there are chances of stepping in an issue from the internal teams. To avoid this SharePoint Issue Tracking App is introduced in the picture and addresses the problems with a solution. This is a well-defined and systematic approach to managing issues and providing a great experience.
What is the process to build a strong SharePoint HR template?
1. Select a proper template
You need to choose between a team site and a communication site. A communication site is considered perfect for HR purposes as it ensures one-way data sharing. In contrast, a team site is for collaboration that might not be required.
2. Determine the requirements you need from employees
It is important to share the content with the audience conveniently. Some vital elements that are used in a typical HR site are:
HR Announcement: This might be policy updates, newly joining announcements, insurance, and more.
Events: Company holidays, trips, and deadlines
Employee Data: Birthdays, anniversaries, or employee of the month
Links: Some redirections to external websites, various insurance providers, retirement accounts, and more
HR Knowledge Base: These are the pages of information that contain different HR processes
Moreover, it has an employee onboarding process, company policies, templates, or forms.
3. Convert the requirements into SharePoint web parts
HR announcement: SharePoint has various features to build colourful and visually appealing announcements. There are multiple resources available to ensure the message is delivered successfully.
Upcoming Events: You can use the SharePoint calendar to highlight various events and holidays.
Company Policies, templates, and forms: Users can take help from SharePoint Document Library. You can use single or multiple libraries depending on the volume of documents. Organize the docs by category, department, and expiration date.
Employee-related events: Some tools help store employee birthdays anniversaries, contact us, or employee of the month. You can create a custom list to store such information and sort it according to your needs.
Link to external websites: SharePoint provides various methods to create links and highlight certain content.
Employee Folder: HR staff requires a place to store and exchange documents with employees. They can create a single document library for each employee and set the permissions.
HR Knowledge Base: Users can build a strong knowledge base that links to other pages, and people can search using tags and keywords.
Employee Onboarding: This task must be properly formatted to ensure a hassle-free joining process. SharePoint provides multiple methods to build workflows.
4. Create HR SharePoint site
Go ahead and build a new Communication site and insert the web parts as per your business requirements. Customize the Microsoft SharePoint HR portal to make it an effective platform to share information.
5. Make it secure
Before releasing the SharePoint HR portal, make sure you set proper security. As an HR, you will be adding everyone to the group but manage permissions based on the job role.
6. Avoid Sharing
Since it is not a team site, you should disable sharing to prevent unauthorized access.
What are the advantages of using the HR SharePoint Site?
It provides a simple recruitment process and employee onboarding
Users get a platform to focus on news, policy changes, and updates
Easier to maintain attendance and leaves of employees
Secure personal and work data storage
Seamlessly track actions of employees from multiple locations and devices
The HR team can generate reports and evaluate each employee
It helps in setting up compliance pieces of training and learning sessions
Deliver relevant content according to the roles of employees
Ease of accessibility to the HR team and employees
Enjoy the immeasurable storage features to store a massive amount of data
SharePoint helps to opt for easy interview scheduling and reminders
Collect, analyse, and maintain the information on a centralized database
Endnote
Microsoft has been putting great efforts into introducing resources that ease the workflow in an organization. One of them is HR SharePoint, which has made life easier for the HR team, and they no more have to indulge with bulk of documents or maintain manual records. We have shared some insights to portray a good SharePoint HR Portal picture.