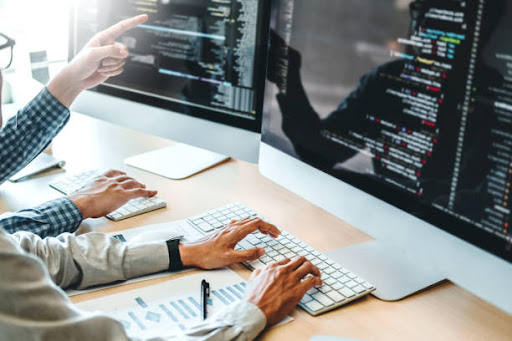 With half of 2022 behind us, a glance at the field of mobile apps this year reveals a significant increase not only in the variety of applications accessible in the Play Store as well as the Apple Store but also in the emerging innovations that have been included into the mobile app creation process.AR and VR have gone from being futuristic concepts that we thought were just for sci-fi movies and literature to being ubiquitous and are no commonplace applications. So, how has the app creation process been changed or tweaked as a result of all of these trends?
Let's now look at the 6 common app development procedures that are followed by mobile app developers.
1. Idea generation 
We often regard the thoughts that strike us as brilliant and extraordinary. However, even if these concepts are amazing, they may not be answering a need or alleviating a pain point. Only if an idea addresses a true problem for the target population who will ultimately download and utilize the app can it be turned into a successful mobile application. As a result, the concept must be realistic, which can be evaluated by conducting market research and setting goals and objectives within the schedule.
2. Planning
The next step is to plan the development process by preparing a project roadmap that will help you track progress and avoid any potential roadblocks. This strategy will also come in handy when it comes to seeking out external funding or investment, as it gives a clear direction to interested parties. Furthermore, this is the stage where you establish which features are essential and which can be cut if necessary.
3. Designing
After the ideation and planning phases have been completed, it's time to start working on the app's design. The UI/UX design will play a significant role in how successful your app becomes because it defines how users will interact with it daily. If the interface is confusing or cumbersome, people will quickly abandon it in favor of a competitor. Therefore, it's essential to invest the time and effort necessary to create an intuitive design that will keep users engaged.
4. Development
Now that the app's design is finalized, it's time to start building it. This phase can be further broken down into two parts: front-end development and back-end development. Front-end development deals with everything that the user will see and interact with, such as the app's interface, while back-end development focuses on the underlying code and algorithms that power the app.
5. Testing
After the app has been developed, it needs to be thoroughly tested before being released to the general public. This is necessary to ensure that there are no major bugs or glitches that could frustrate users and cause them to delete the app. Furthermore, it's important to test the app on a variety of devices with different screen sizes and operating systems to make sure that it works as intended for the largest possible audience.
6. Launch
Once the app has been tested and deemed ready for release, it's time to launch it on the App Store or Google Play Store. However, this doesn't mean that your work is done – you need to continue marketing the app and monitoring its performance to ensure that it remains successful over time.
Following these six steps will help you create a successful mobile application. However, it's important to keep in mind that the process is not always linear – you may need to go back and forth between steps as you work on your app.
If you want to create a successful mobile app, it's important to stay up-to-date with the latest trends and best practices. This means keeping an eye out for new technologies that can be used in the app creation process, such as AR and VR. Furthermore, it's also important to pay attention to changes in the market and user behavior so that you can adapt your app accordingly. By doing so, you'll be able to create an app that meets the needs of your target audience and stands out from the competition.
Is it difficult to execute all of this on your own?
Yes. Is it worth partnering with a professional mobile app development company to help you out? Absolutely.
At Fueled, they have a team of experienced app developers who can help you every step of the way, from ideation to launch. They'll work with you to understand your vision and create a custom app that meets your specific needs. Contact Fueled today to learn more about their app development services.
Success Stories of Apps Using Top-Level App Development Companies
1. Instagram
Instagram is a photo-sharing app that was launched in 2010. Since then, it has grown exponentially, reaching one billion monthly active users in 2018. Fueled was brought on board to help with the app's rebranding and redesign in 2012. Their team helped create a sleek and user-friendly interface that has played a major role in the app's success.
2. Tinder
Tinder is a dating app that was launched in 2012. It quickly gained popularity thanks to its unique premise and easy-to-use interface. In 2016, Tinder approached Fueled intending to redesign their app to make it more user-friendly. The team at Fueled rose to the challenge and delivered an updated design that has helped Tinder maintain its position as a top dating app.
3. Warby Parker
Warby Parker is an online retailer that specializes in prescription glasses and sunglasses. The company was founded in 2010 and launched its e-commerce site in 2011. Fueled developed Warby Parker's first mobile app in 2013. Since then, the app has been downloaded more than one million times and has been featured on the App Store's "Best of" list.
4. Crunchbase
Crunchbase is a website that provides information on startups, investors, and technology companies. The company was founded in 2007 and launched its first mobile app in 2011. Fueled helped Crunchbase with its app redesign in 2013. The updated app has been well-received by users and has been featured on the App Store's "New & Noteworthy" list.
If you want to create a successful mobile app, partnering with a professional mobile app development company is a great way to achieve your goal. A team of experienced developers can help you with everything from ideation to launch.