Are you looking for the best city electric bike that will keep you rolling from home to work daily? Then you've got plenty of good options from which we will help you choose the best commuter electric bike.
Electric bikes are generally broken down into several categories like mountain bikes, city electric bikes, fat tire e-bikes, foldable electric bikes, cargo e-bikes, etc.
Your ideal bike for commuting depends on the type of riding you plan to do. For example, a hybrid or mountain bike may be more suitable if you intend to take your bike off-road and over obstacles. On the other hand, if you intend to stay mostly on the road and are looking for speed and efficiency, then a Commuter Electric Bike like ADO DECE 300 or ADO DECE 300C would be better suited.
What's the best Commuter Electric Bike?
Choosing an electric bike to travel to and from work with is largely down to personal preference. Each commuter has his or her own idea of comfort and style that's important when determining the kind of bike they should ride. That being said, here are some broad guidelines for choosing your next commuting companion.
Electric Bikes Battery, Riding Range, and Motor
Charging Time
When selecting an electric commuter bike, one critical selecting factor can be battery charge time. Most long-range e-bikes require 5-7 hours for a full charge. However, there's always an option to use fast chargers and use extra batteries.
Batteries
All the e-bikes are equipped with lithium batteries. However, the only difference is some bike brands like Adoebike offer models with removable batteries, and you will also find some e-bikes with fixed batteries. 
Battery Mounting
There are two types of battery mourning on electronic bikes. One is an externally placed battery, and the other one is integrated and battered in the frame, which provides more space and aesthetic design.
Torque
Torque is a crucial measure of how able your e-bike will be when asking more than just the motor to push it up hills or to pull heavy loads. Torque is measured in newton meters (N m) and can range anywhere from 40 N m to 80 N m maximum. Your actual torque output will vary depending on how much you are leaning on pedal assist in supplementing the power of your motor, especially if you're hauling along heavy goods such as groceries, for example!
Top 3 Best Commuter Electric Bikes
1: ADO DECE 300 Hybrid Commuter Electric Bike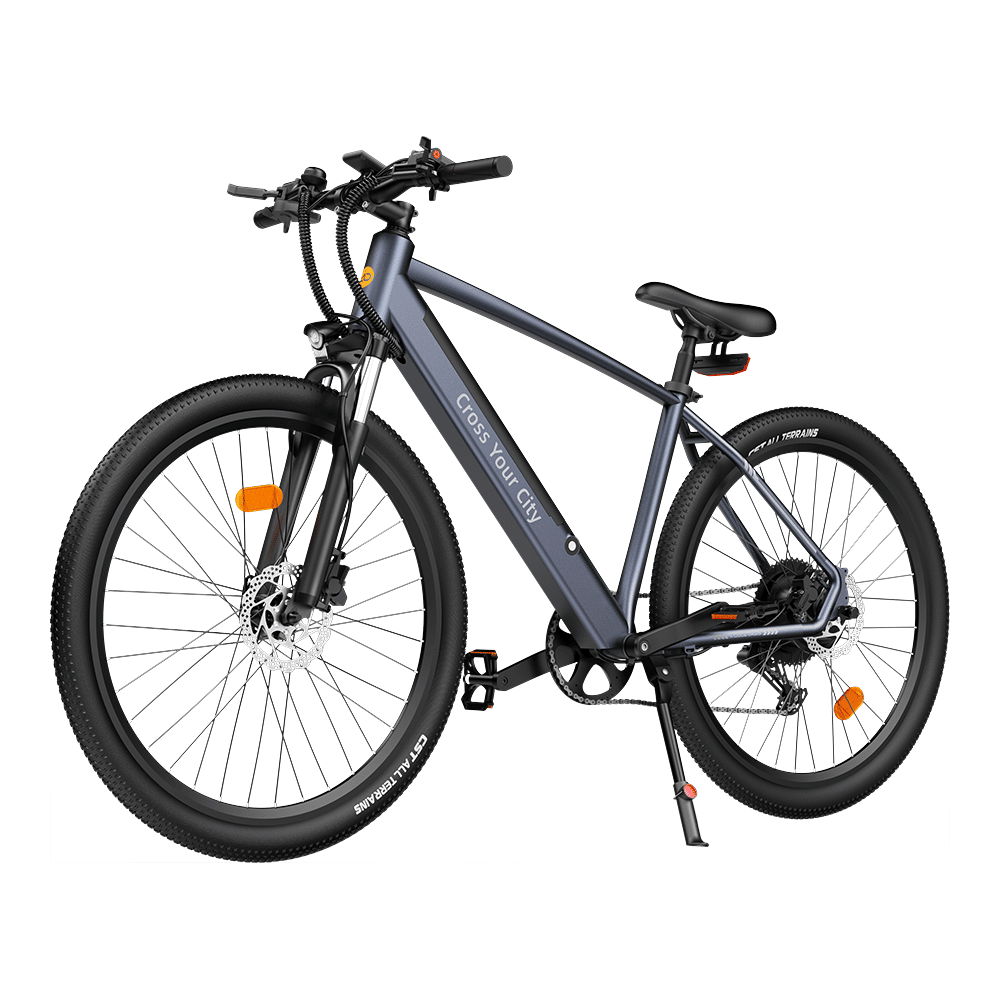 The ADO DECE 300 hybrid bike is a fantastic option if you're looking for a way to make your commute easier. A powerful motor coupled with high-performing wire-controlled shock absorbers makes this one of the market's most immersive city electric bikes! The integrated USB power pole is a great way to ensure you're never without charge when you need it!
ADO DECE 300 is equipped with a G-Driver control system that provides great strength when you're riding up or downhill.
Features:
22KG Lightweight Aluminium Alloy Frame
25kph/16mph Top Speed
11-speed shift Shimano Deore gears
250 W brushless motor and a torque of 42 Nm
Wire-Controlled Shock Absorbers
ADO G-Driver 2.0 Control System
LCD display
USB Charging port
Super-durable hydraulic disc brakes
36V 10.4Ah removable multi-protection power battery
IPX5 Waterproof rating
27.5 x 1.95 Wheels
6-7 hours Charging time
For more details check Ado E-Bike 
Pros:
Excellent durability
Sleek design
Smooth and powerful ride
Good range
Cons:
No fenders
Slightly expensive
2. ADO DECE 300C Hybrid Commuter Electric Bike
ADO DECE 300C is another popular model among electric cyclists. It has an attractive design that stands out against the competition and impressive features to help riders for longer commutes. The battery's capacity is impressive, along with the frame material and warranty available with the bike. 
It has an ultra-long range and can help you travel up to 90 km on a single charge. It has a removable 10.4 Ah lithium-ion battery that provides great value. Additionally, it offers several functions that ensure your safety, especially when handling high loads, such as overload and short circuit protection.
Features:
22KG Lightweight Aluminum Alloy Frame
25kph/16mph Top Speed
9-speed Shimano Altus drivetrain
250 W Motor Power
Controllable shock absorption front fork
ADO G-Driver 2.0 Control System
LCD display
USB Charging port
Super-durable hydraulic disc brakes
10.4Ah Detachable and multi-protected power battery
IPX5 Water resistance
27.5 x 1.95 Wheels
6-7 hours Charging time
For more details visit adoebike.com
Pros:
Lockable shocks
Removable battery
Good value for money
Cons:
3: ADO A20+ Foldable Bike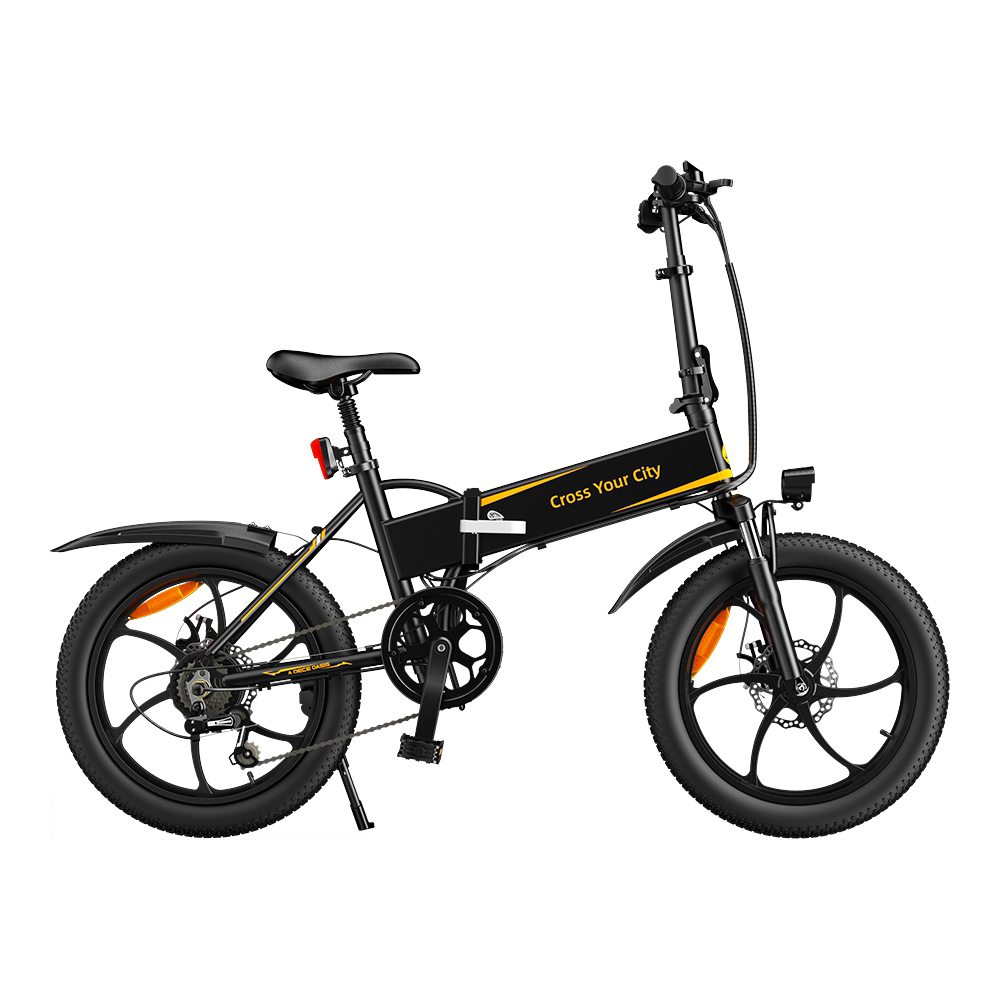 If you're on a budget and looking for a foldable Commuter Electric Bike, then you can't go wrong with ADO A20+ Folding Electric Bike. It comes in 2 options, black and white. It features 20-inch tires with both electric assist and pedal assist modes for a practical bicycle for both rural and urban settings. With this electric bike, you can switch between choosing motorized or manual modes allowing you to get a good brisk workout when desired. The A20+ is built so that it absorbs 85% of the impact from the road, allowing you to ride without any worries.
Features:
Foldable
35kph/22mph(Unlock mode)
250 W Motor Power
7-speed Shimano transmission
USB Charging port
LCD panel
36V 10.4AH removable lithium battery
Multi-suspension technology
20 x 1.95-inch wheels
4-6 hours full charge
For more details visit adoebike.com
Pros
Foldable
The great value of money
Powerful motor
Minimalistic design
Cons
Heavyweight
Slight less comfortable for tall people (6.5+ feet)
Is ADO a good brand?
ADO (A Dece Oasis) has become an established and well-known brand due to its innovative e-bikes, including city electric bikes, mountain e-bikes, high step e-bikes, and folding e-bikes. The Adoebike brand continues to expand throughout Europe, the UK, and the US by producing high-quality bikes that are also accessible through their affordable prices! Their eagerness and passion can be felt when they describe the details of their all-encompassing biking experience. Their wide range of different electronic bikes provides customers convenience in choosing the right model as per their requirements and the best value for money for them. 
Furthermore, they've accumulated this kind of enthusiasm consistently over many years. This puts them in a unique position because the company always listens to its customers by providing additional features or making adjustments to existing ones, which keeps the brand on the 'bleeding edge,' so to speak, which makes it very popular worldwide.