Hello! The next calendar month is coming to an end, which means that the Clan Games begin in Clash of Clans. Let's see what rewards Caravan Strongman has prepared for us this time in the October 2020 clan games.
Recently, Clash of clans has released its update, I hope you did like. For knowing completely review of the new clash of clans update click here.
The event is 6 days long and will start this [su_highlight background="#f74df4″]Thursday 10/22/2020 and end this Wednesday 10/28/2020[/su_highlight].
[su_heading size="18″]Clan Game Rewards in October 2020[/su_heading]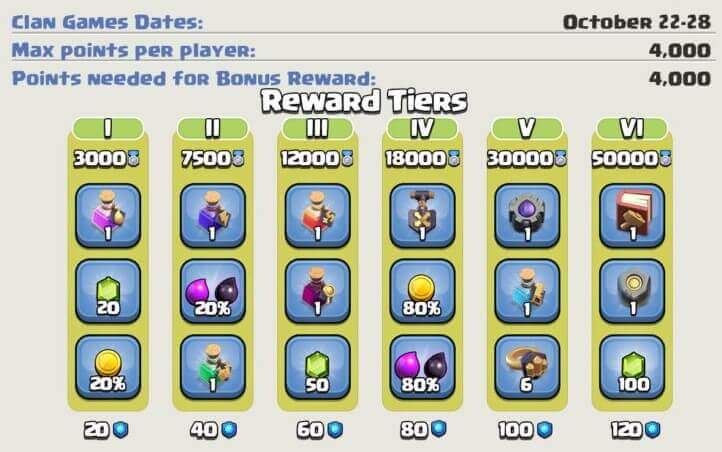 The main rewards in October, in addition to cans, resources, 6 wall rings, and a shovel for obstacles, were the Rune of the Elixir of the Builder, Rune of Gold, and the Book of Construction, which cannot but rejoice, given the recent update and the addition of new levels of protection for TH 13.
If you are only interested in crystals, then you can get up to 330 gems by selling all items, along with a bonus reward.
Bonus Reward
An additional reward, which was introduced exactly one year ago in the Halloween update, you can get after choosing the main six, provided that you gave your best and scored 4,000 points.
Also, do not forget about some of the changes in IK made back in May.
Unlock The Last Level
In October, to reach the final tier of rewards, a clan must score 50,000 points. Accordingly, with a limit of 4,000 points per member, a clan must have at least 13 active members to unlock the last level.
As always, I would like to wish you good luck, easy tasks, and adequate clans! And don't forget to check out what Halloween has brought us this year.
Final Words
We have discussed above the new clan games event in Clash of Clans. Currently, the clan games event is near about to end. After finishing this event the new event will begin.