New skin Pirate King November 2020, November has arrived, which means new Seasonal Challenges are starting in Clash of Clans, with new rewards and, of course, a new Hero Skin.
For all the details of this event, how the new skin for the Barbarian King looks like, how to get a gold pass, and what rewards are already waiting for all the leaders, see this review.
New Skin Pirate King in Clash of Clans
The new skin in November, quite expectedly, will receive the Barbarian King. Now he looks like a real filibuster – in a red jacket, in a cocked hat, with a saber, a hook for an arm, and with a wooden leg. It turned out, in my opinion, very worthy and interesting.
As usual, a couple of days before the start of the next season, an announcement of a new skin appears, and now it's time to take a closer look at it.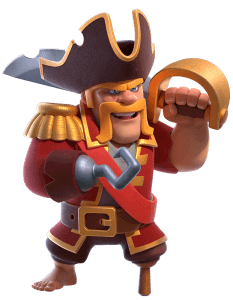 This third pirate skin previously in a similar manner already brought Queen pirate and Dumper pirate. In general, this is the 10th skin for a king. Will he complete the pirate skin line? Will the Royal Champion skin be made at the end of the year? We'll find out in a month.
Price Increases for Gold Pass and In-Game Purchases
The gold pass has risen in price. And no, this is not a whim of Supercell. Google and Apple have recalculated in-app and in-app purchases in select countries due to additional taxes or local currency changes.
Unfortunately, due to the depreciation of the ruble, Russia also got on this list. All prices are increased by 1 level, which is + 20%. Thus, the gold pass now costs 911.16 Pakistani Rupee (level 5), instead of 772.14 Pakistani Rupee (level 4).
In addition to Russia, price increases have occurred in Brazil, Colombia, India, Indonesia, and South Africa. The most unpleasant news.
How to get the Pirate King skin?
To unlock this skin, you must purchase a Gold Pass for 904.94 R.s (5.65 USD at the Central Bank exchange rate as of 11/01/2020) for the current season. Let me remind you that if you press "back" after clicking this button, then Google can sometimes offer a discount.
As is most often the case, the skin is the very last reward, so you need to play the game and complete enough challenges. 2600 points are required and can usually be obtained in two weeks of regular gameplay. And for the impatient, there are gems in the game.
The season lasts the whole month; you can purchase the Gold Pass no later than 24 hours before the end of the season.
November 2020 Season Challenge Rewards
The following rewards wait in November's Seasonal Challenges:
[su_list icon="icon: chevron-circle-right" icon_color="#3d902f"]
Silver Level (Free): 6 Potions + Book of Heroes + Resources
Gold level (paid): 8 potions + 3 books + 4 runes + 12 wall rings + the Pirate King skin
[/su_list]
As always, there is a seasonal bank for all players, as well as perks and privileges (boosters): speeding up construction, speeding up training, speeding up research, and donating reinforcements for 1 gem for those who purchase a gold pass. Haste boosters have a maximum effect of 20%.
To receive all the rewards, you will need to score 2600 points in challenges. We remind you that the silver level is free for all players, and for the gold one will have to fork out.
Supercell Video
A special promo video dedicated to the start of the November trials and the release of the Pirate King skin has appeared on the official YouTube channel, in which you can see in detail the animation of the new hero skin: how it moves, how it attacks, and what sounds it makes.
And also in this video flashed part of the new design of the village.
It's hard to say when this new artwork will appear, possibly next season.
Also, the fate of the anchor statue, which was shown to us in the video with the Pirate Keeper in the previous seasonal trials, remains unclear.
Good luck to everyone in the Clan Wars League, you can already start!