Do you know that almost 45% of bloggers use search engine optimization (SEO)? I hope you have invested in this method or if not then you are missing a useful opportunity to market.
Before starting to learn SEO fundamentals, you need to know the SEO values that will help your campaign succeed. In this article, we will talk about the Eight SEO fundamentals that can make your campaign succeed. If you more want about SEO fundamentals techniques step by step check out (Read more).
Before the starting of discussing firstly, we will know what is Search engine optimization (SEO).
What is Search Engine Optimization (SEO)?
"SEO is the way to improve website performance" SEO experts can do SEO for improving website performance, in this way you can also improve site traffic.
8 SEO Fundamentals
Here the list of 8 SEO fundamentals that can help your campaign succeed:
Keyword Research
Keyword Mixing
Attention on the User Experience
Improve the Title Tag
Adjust your Meta Description
Publish Unique & Useful Content
Set Images
Link Internally & Externally
1.    Keyword Research
Keyword research plays a crucial role in ranking on the search engines, it helps you rank in relevant search results.
There are various keyword research SEO tools available such as BuzzSumo or keyword tool. With the help of these keyword research tools, you can find useful keywords for your article or post.
Keep in mind when you conduct the keyword research, you'll need to focus on long-tail keywords. Long-tail keyword consists of three or more than three words such as "Search Engine Optimization" or "30 Audit Sites".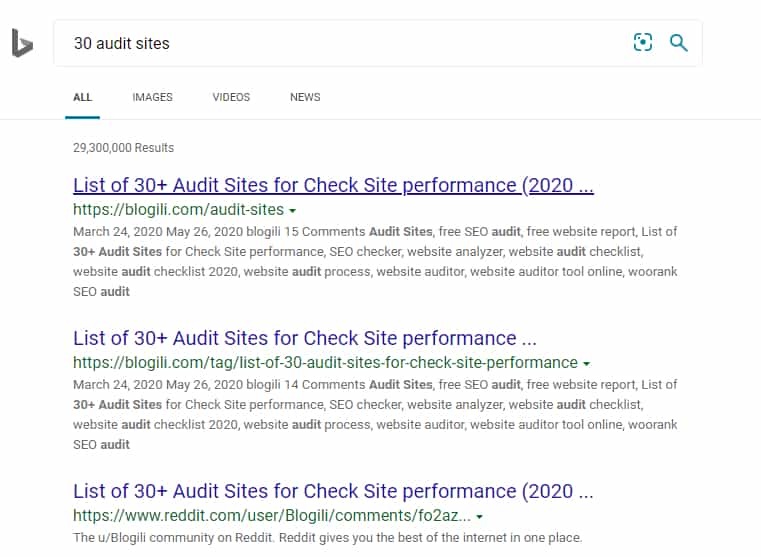 Long-tail keywords are better than short-tail keywords that are consist of 1 or 2 words. For example, you are using a short keyword such as "Search" or "Marketing", so these keywords don't show the proper sense. You need to write a clear what actually do you want to search for. On the other hand, keyword research tools can help to find posts or content-related keywords.
2.    Keyword Mixing
Once you selected keywords for content you need to mix them into your site, keyword mixing is a vital part of SEO. You must mix them into your site content if you want to get rank in related search results on specific keywords.
3.    Attention on the User Experience
If you are a beginner and don't know how to improve SEO, you can start by improving the user experience. You will know the user experience plays an essential role in the SEO field. If someone visits your site, you try to engage them and want a positive experience from the site content.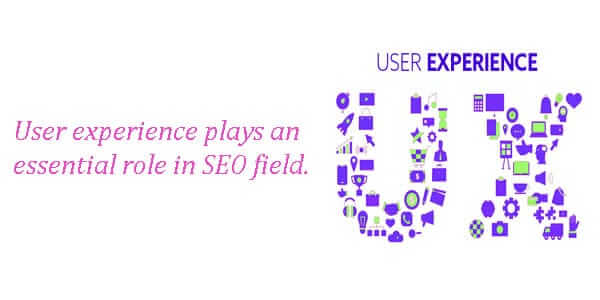 Here a list of mentioned that can help to improve the user experience on your website.
Improve Page Speed
Unassuming Navigation
Adding Pictures
Improve Page Speed
That is dam true the website page speed plays important role in the user's experience. No one user can wait for your page to load to get the info. If your site page takes a long to load your user will leave. Might be your user visit your competitor's site.


If your site doesn't load quickly, your danger of losing appreciated traffic for your site. Your site must be open within less than three seconds after the click.
If your site takes time to load you can use Google PageSpeed Insights, in this way you can check how long it takes to open your site. Google PageSpeed Insights tools also provide metrics for both desktop and mobile. With the help of this tool, you can improve your website page speed
Unassuming Navigation
Navigation is a crucial part of the site. When someone visits your site, they want to find related info quickly. If your navigation is confusing, it could lead to an immoral audience experience.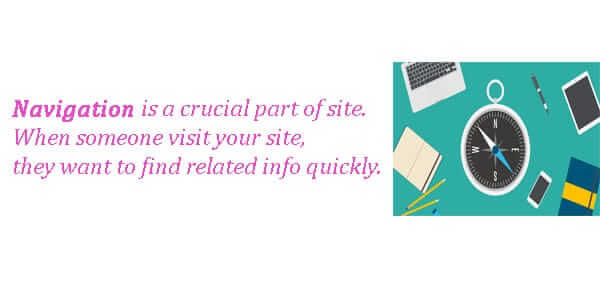 You need to set your navigation; you should use category headings. These categories will help you keep your content more prepared by providing rarer tabs.
Adding Pictures
This is also an important component of your site. Without images and graphics, your site content might be useless. Why it happened? Because when someone visits your site sees only text, might be they will lose interest. It's much extra engaging to look at a page that has custom pictures and graphics.
You need to put many types of visuals on your websites such as photos, videos, and infographics. These illustrations add a point of interest to your audience.
4.    Improve the Title Tag
Title tags are a vital part of Google SEO. Most the visitor can visit the site by organic such as Google search result. Users will see your title tag in the search results.
The most vital SEO value is to improve your title tags. Since it's the first thing your visitors see, you want to make a good impression and show them that your page is related to their search query.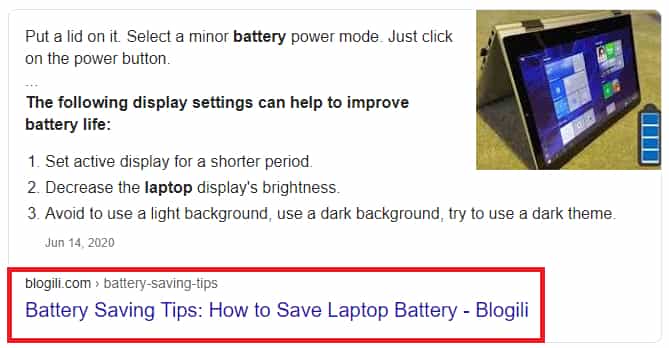 The title tag must be including 50 to 60 words, and your title must be related to your content. Put your keyword at the first, some examples are mentioned below:
You can check the first title start into "Battery Saving tips" so this is the main keyword. By improving your title tag, you'll help drive more related leads to your business page. It's one of the most serious SEO basics for getting leads to click on your listing.
5.    Adjust your Meta Description
After improving title tags, you need to adjust your meta description. A meta description is a vital factor of your SEO listing that your visitors look at before clicking on your site.
The meta description is shown below the title tag on the Google search result. This content allows you to give your visitors a quick screening of your page to help them define if your page is related.

You can only use 150 to 160 characters for your post meta description. Sometimes you can increase length if you fail to explain the whole content. Try to add simple and specific wording because the meta description indicates the whole content.
6.    Publish Unique & Useful Content
Unique and useful content is the main part of Google SEO. Without unique and useful content your content can't be rank in the Google search engine.
If you want to know how to improve site SEO, start with creating quality and unique content. Content is a vital section of your website SEO campaign. When you create content, you ambition useful traffic to your page. This strategy also helps you keep principals on your page longer, which increases dwell time and sends a positive signal to Google.
You can start the content in various forms:
Blogs
Videos
Infographics
EBooks
Guides
Try to use this content format for engaging your visitor. When you focus on useful and related content that are really need of visitor, you can drive traffic to your content. Try to use keywords in your content.
7.    Set Images
Images are very important content for your article so keep in mind your images must be readable when you set them. Give the proper tag for the images, in this way Google can easily understand that what is actually this image for. Alt tags deliver useful details for your visitors, it can help Google read and index it quickly.
Make sure your images are fully compressed and clear, in most cases the images cause page loading. But don't worry if you forget to use a compressed image, try to use the WordPress plugin for image compression that will help to decrease the size of images.
Read more: SEO Chrome Extensions: Top 15 Google Chrome Extension 2020
8.    Link Internally & Externally
Did you think that link internally & externally is also a component of SEO? Internal and external linking is a fundamental part of SEO. When you link internally & externally, you lead your visitors to other pages on topics related to a page.

Internal links keep your visitors engaged on your website pages. They help guide your visitors to revealing pages that increase their knowledge on a topic that they're already interested in learning. Link internally can even lead them to learn something new.
Hope you got all 8 SEO Fundamentals that can make your campaign succeed. If you have any query related to content free ask through the comment box.